Nursery & Horticultural Equipment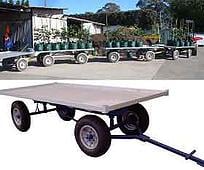 Why does a general engineering and sheetmetal fabrication company manufacture nursery horticultural equipment and machineries?
The original founder lived next to a large nursery in Girraween, Western Sydney who wanted to improve their processes of moving potting mix, potting plants and moving plants out into the nursery paddocks. That was over 50 years ago. From working on potting machinery we have evolved to offer our clients and customers self-tracking nursery trailers, soil mixers, shade houses, nursery benching and other nursery equipment.
C-Mac now has a reputation for strong, reliable and functional nursery machinery and equipment across Australia.
Development of C-Mac Horticultural Equipment
In addition to our standard products a lot of specials have been designed, manufactured and installed over the years e.g. soil recycling trammel.
Additionally, to expand our product range and keep a reputable product available to the industry, C-Mac invested in the "Spring Benching" business.
C-Mac has been involved all these years in the Nursery and Garden Industry NSW & ACT attending many functions, field days, seminars and allied trade initiatives.
Utilizing pot levies doing R & D work on pot-handling and soil pasteurisation. Supplying to order what is most needed by nurseries has helped develop or evolve our equipment. C-Mac is always interested in feedback and improvement of its products.
C-Mac Nursery Equipment
Offers hi-tech capability, versatility, service, innovation and quality products to the Australian plant nursery, horticultural and landscaping industry.
Utilising C-Mac's Nursery Horticultural Equipment, plant growers and suppliers will save their labour, time and money, and in return, they will increase production and eventually gain more profits and grow their business.
If you cannot find what you exactly need or you need something special, remember we are the designer and manufacturer (Australian Made) we can help you solve your material handling problems.
Why talk to C-Mac for your Nursery Machinery needs?
Diverse & Innovative Equipment

– Because we design and manufacture our own equipment, we stock many unique and hard-to-find items that benefit your business – made for Australian conditions!

Specialists in customer service

– With extensive knowledge of the industry and having ownership of a nursery gives us a full understanding and apathy of the industry requirements. As such we work closely with clients to help them excel.

Quality in workmanship

– We provide exactly what you ask for, when you ask for it.

Invested interest

- ALL staff from cleaner to manager having ownership status in the business meaning we are all eager to please customers.

Strong relationships with specialist companies

– We can call upon our trusted specialist network to assist in extensive or varied projects.
For frequently asked questions about C-Mac see our FAQ page.
Would like to make an inqury on C-Mac's horticultural and nursery equipemnt,