Pot Accumulator
What is a Pot Accumulator?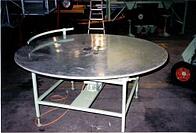 Pot Accumulator collects pots generally off the end of a conveyor when staff are unable to keep up or not available to move pots off the conveyor. Then allows operators to load trailers when time available without being rushed.
Reduces the need to stop the potting machine or production line because of this type of bottleneck. Is an effective way of accumulating plant pots
What are the uses of Pot Accumulator?
The pot accumulator reduces wastage and frustration for nursery owners of not having fast or enough staff to keep up with production rates. By automatically accumulating pots on the rotary table, it reduces the likelihood off pots falling off the end of a conveyor. Improves production efficiencies and wastage.
It can reduce the need for extra labour and avoid production line stoppages and the bottle neck with removing pots.
Why choose C-Mac's Pot Accumulator?
C-Mac offers an exceptional pot accumulator that provides robust Australian Made equipment. C-Mac can manufacture custom made pot accumulators depending on your production needs.
C-Mac's pot accumulator can improve production output rates. Spare parts if every needed can be acquired locally.
C-Mac's Pot Accumulator Features:
Place it at the end of your take-off conveyor on the potting machine
Gives your operator time to load trailers,

Removes the problem

of having to stop the potting machine because there are no trailers available to take product away

Strong construction using rectangular hollow section, duragal steel

Table extremities supported with bearings reducing sag and removing the likely hood of the table being tipping over. Increases the load carrying capability.

240-volt motor and gearbox

Adjustable feet for uneven surfaces
Contact us on 02 9631 6000 to make an enquiry OR