Potting Station 4 m³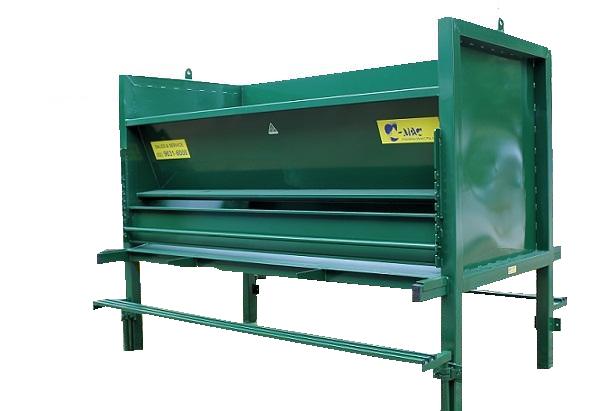 What is a Potting Station?
A potting station is a work bench and hopper on which nursery persons can manually fill pots quickly. It is an efficient potting system to improve or add to your nursery production processes. No power is required.

What is the use of Potting Station?
Potting station is a very large modified potting bench designed to meet the needs of filling large pots with soil, generally used for the potting up of growing shrubs into larger pots. Using a potting station is a proficient potting method (customers have stated: betten than a automated machine).
Fast and flexible, ideal for lower volumes where an operator is efficient. No setup times and no electrical problems or mechanical break downs of equipment.

Place your pots under the pot template and drag the soil out with your hands. Surprisingly easy and efficient.
The Potting station can hold a large amount 4m3 of potting mix, saving time of having to reload hopper regularly.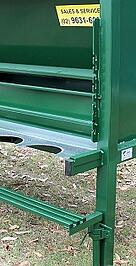 Why Choose C-Mac's Potting Station 4 m3?

C-Mac is the leading manufacturer of nursery equipment in Australia. C-Mac's Potting Station 4m3 has been designed, manufactured and evolved over the years thanks to the input from various nurseries.

Easily adjustable for different pot sizes, just slide out the pot template and add a different size, no tools required

Gravity feed hopper with step walls to stop bridging
Fill by bobcat or conveyor

No motorised moving parts, minimum maintenance.

Front panel to stop soil splilling out when filling with a bob cat. Easily adjusted manually up and down on a hook rail system.

Adjustable rails for supporting the base of different height pots using a simple clamping system similar to a jocky wheel on a trailer.

Easy changing of the pot templates. Just slide in or out as needed.

Simple and reliable
Specially designed for horticultural and nursery industry, the potting station can greatly improve work efficiency for nurseries. With many years of experience (over 50 years), C-Mac has come up with this innovatively designed potting station.
C-Mac's Potting Station 4m3 usually holds 200mm pots or larger. Its storage hopper has an adjustable wall to minimise spillage when loading soil or other potting materials.
C-Mac's Potting Station features:
4 cubic metres capacity

Dimensions – 1.5m wide x 2.5m high x 3.2m long

3mm mild steel, painted finish

Double sided operation takes up to seven 16" diameterper side

Three custom sizes of pot holding templates supplied with each potting station

Templates are made from sturdy 3mm galvanised sheet

Galvanised sheet metal cylinders, for potting into bags, are also available
Option – heavy duty castors to be able to move the potting station (on concrete)

If you are interested in inquiring a potting station, you can call C-Mac now or check its prices below. You can also ask a free quote by clicking the yellow button.
Click here for "Plant & Equipment Finance"
Contact us on 02 9631 6000 to make an enquiry