Continuous Conveyor Potting & Mixing Machine
What is a Continuous Conveyor Potting & Mixing Machine?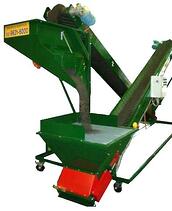 A conveyor is a piece of mechanical equipment generally used for handling and moving products from one place to another. However, the unique design of this machine uses the conveyor for mixing your product as well.
When soil falls it mixes in other added ingredients evenly and because this is a continuous process with two soil drops, it takes no time to mix the product and then use the same machine to fill your pots at the two filling/potting stations.
It reduces the number of machines required and saves on floor space as well. The potting station areas are large and minimum spillage and mesh occurs.
Mixing soil media with fertiliser evenly and potting has been a challenge in the past but we believe this is a possible solution for your nursery.
Why choose C-Mac's Continuous Conveyor Potting & Mixing Machine?
C-Mac has been manufacturing revolutionised conveyor systems for over 50 years.
A nursery owner approached C-Mac with this concept and a design was generated using our 3D CAD modelling software.The machine was then manufactured, trialled in our workshop and then proved very successful in its operation.
C-Mac's conveyor/potting machine was made mobile in the design. Workers can move the machine with the wheels to their potting area when needed.
The conveyor potting and mixing machine could be the solution to your nursery mixing and potting issues.
It can continuously hold nursery materials such as potting soil and fertilisers until it is used. Soil is loaded into the hoppers at the potting station as needed.
C-Mac's Continuous Conveyor Potting & Mixing Machine Features:
Two (2) potting stations – single or dual potting

No spilt potting media – continuously recycled

Gentle conveyor motion

so media doesn't get damaged

Mixes in fertilizer or other additives

Variable speed control on conveyors to set filling rates on pots.

Mobile system – easily pushed around on concrete floor, locks on wheels. Easy storage if needed.

Emergency Stop Buttons at each work station

Vibrators on hoppers with variable control to minimise bridging in hoppers.

Adjustable sliding gates on hoppers to vary flow rates and allow storage of material in hoppers

Slats removable to allow cleaning of bottom hoppers
Conveyor tail rollers have scrappers fitted to remove build of soil on the underside of the conveyor belt. Keeps belt clean and tracking straight
Guarding over all moving parts

PLC control water resistant and parts standard and easily replaceable by any electrician

Strong sturdy construction to suit Australian conditions
Specifications:
Chevron rubber conveyors

5 cubic metres capacity of media in system

Electrical cables enclosed in steel pipe

Sealed bearings

All steel - undercoated and enamel painted – Olive green

Power supply – 415V
Call C-Mac now for more details or you can click the yellow button below and ask for a free quote.
Click here for "Plant & Equipment Finance"
Contact us on 02 9631 6000 to make an enquiry OR