General Machinery/Equipment Maintenance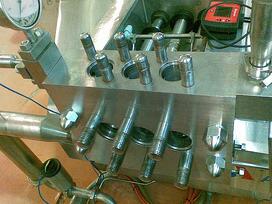 Since many components can fail at any time, maintenance staff must be ready to do many different types of repairs in-house.
It involves maintaining the stock of replacement parts for any crical piece of equipment onsite, as well as any other miscellaneous general onsite maintenance work.
At C-Mac, we solve all your maintenance support problems with a unique solution by providing a Fitter & Machinist tradesmen along with a complete manufacturing and design facility as an immediate resource for your maintenance managers.
Case Study
A processing plant had part-time maintenance staff retiring. C-Mac offered to provide a single Fitter & Machinist on an "On-Call" basis. That single Fitter had the full resources of C-Mac to immediately support him:
Machine workshop with advanced equipment and 10 tradesmen – Fitter Machinists and a toolmaker "On-Call"
Gear cutting workshop; "On-Call"
Sheet metal Fabrication workshop with 14 staff – boilermakers, fitter welders, sheet metal workers, labourers and apprentices; "On-Call"
Project Engineer (specializing in materials handling & Lean Manufacturing) "On-Call"
Design Engineer and Draftsman; "On-Call"
Administration support staff. "On-Call"
Basically, the customer has a full Engineering Department "on call" to repair, prevent and solve all their engineering needs.
Management no longer has to worry about having an engineering department and the associated costs in their business structure.
Alternatively:
Request a tradesman once per month to visit your facility and fix up all those annoying WH&S issues you have identified through Risk Accessments.
If the project is too big, or complex for a single tradesman, know that he has "On-call" immediately, a fully equipped and staffed design, engineering and fabrication facility.
Have you implemented Lean Manufacturing and having trouble finding time and know how to do those production improvements, and need designed proposals and good investment returns? Our Project Engineer is very experienced in materials handling and is trained in lean techniques.
Contact us on 02 9631 6000 to arrange an appointment to discuss and tailor a maintenance solution for your business OR