Transformer Oil Filtration Equipment (IOT)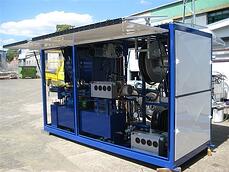 To handle electrical stresses, transformer oils are required to have better dielectric strength. Lower residual water, gas and contamination content must be maintained to reduce the speed of oil ageing.
All of these operations are performed using the transformer oil filtration equipment (IOT).
Power transformer oil filtration, dehydrating and degassing can be performed individually or simultaneously based on the various conditions of the mineral oil and customer requirements.
Application
Vacuum dehydration, degreasing and solid particle filters are function of transformer insulating oil equipment. (IOT)
Equipment Range:
IOT 500 to IOT 16000
Oil Treatment Capacity:
500 litres to 16,000 litres per hour
Guaranteed Performance:
Single pass at low temperature 50/55 degrees C
Moisture level from 50 ppm to < 5ppm by weight
Gas level < 1% by volume
The IOT plant will generally consist of:
Feed pump ---- Draws transformer oil from either a bulk tank or transformer, then feeds oil through a heat exchanger and electric heater.
Vaccum Tank ---- Sprays the oil at high pressure into the vacuum chamber where moisture and dissolved gases are flashed off.
Discharge pump ---- Draws the oil from the vacuum chamber and pumps it through the heat exchanger then delivers the oil back to the transformer or storage tank as required.
Outlet oil regulating valve ---- adjusted from 0% to 100%. If the output is varied a relief valve returns the surplus to the feed pump suction.
Frame ---- The equipment is all located and packaged within a quality fabricated frame.
Weatherproof housing and lift up doors ---- to provide weather protection when operating externally (give operator weather protection).
Rubber mounted IOT---- to a transport base (minimises vibration) with provision for container mounts and forklift slots
Bypass heat exchanger

(

reduces energy consumption by over 30%)

and fast flush outlet pipes

----- with valve fittings
Extra filters ---- with surrounding valves
Moisture meters ----- installation at inlet and outlets
Inlet and outlet hose reels ----- installed only in large frames
Extra long frame (large frame) ----- to fit hose reels
Solenoid valves ---- on inlet and outlet for isolation and batch control
Fuses, circuit breakers ----- provided for heater, pump and control circuits.
Motors are protected ----- for thermal overload and loss of a phase.
Phase rotation indication and selection fitted. PLC
Indication of ---- temperature, pressure, hours, vacuum and filter dp included
An illuminated viewing window ------ provided on the vacuum chamber.
High oil and foam level alarms ------ are fitted
Inlet and outlet sampling points ---- all provided
Vacuum tank and piping ---- are all stainless steel.
Indication of ---- temperature, pressure, hours, vacuum and filter dp included
Relay controls and associated alarms ----- allow for unattended operation after initial startup.
The control panel ----- located at the end of the unit, which is illuminated for use at night or in poor lighting conditions.
One man operation ----- Manual overrides are fitted.

Operation
The filter unit comes with one cartridge that is available in a range of grades down to sub-micron level. The normal grade when treating transformer oil is 3/10 micron. Replacement cartridges are available direct from C-Mac Industries.
The oil outlet sampling point is provided after the discharge pump.
The inlet and outlet terminations are Kamlock quick release couplings.
Control and Instrumentation
All electrical controls and instruments are grouped together in a central control panel for convenient operation from ground level.
All systems are interlocked to ensure safe operation and enable the unit to run unattended after initial start up.
The IOT unit is fully tested at the factory and ran using customer supplied transformer oil to prevent cross contamination.
Commissioning and training at customer's site provided.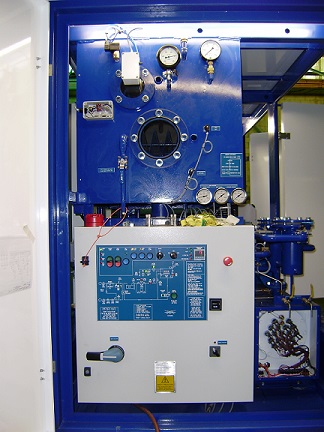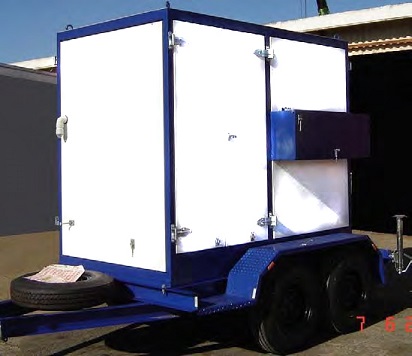 Why choose C-Mac transformer oil filtration equipment (IOT)?
Equipment is "Australian Made" at C-Mac Industries so you will get:
Face to face support
Flexibility of design
A shorter supply chain
Faster responses
Competative pricing
Customerisation to your specific requirements
Stainless steel vacuum chambers and pipe work.
High Quality (Officially accredited to Quality System AS/ISO 9001)
Has the most advanced anti-foaming system on the market, ensuring guaranteed operation of the IOT system.
The following table provides independent data comparisons before and after purification.
| | | |
| --- | --- | --- |
| Oil Test Parameters | Before purification | After purification |
| Moisture content (ppm) | 50-100 | <5 |
| Gas Content (%) | 12 | <0.1 |
| Contaminants Sizes, micron | 50 | 3 |
| Breakdown Voltage (kv) | 11 | >70 |

See the PHOTO GALLERY of various configurations of IOT equipment made to suit individual customer specifications.
Click here for "Plant & Equipment Finance"