3d Printing Service Sydney
C-Mac provides clients with

QUALITY

&

FAST

3d Printing Service in Sydney Australia with

COMPETITIVE PRICE.
All 3d printing jobs are completed in Sydney with high standard by our local dedicated team comprised of skilled, professional and experienced 3d designers and engineers utilising the

cutting edge

3d printing technologies and

advanced

3d printers.

What is 3d printing?

3d printing (additive manufacturing) is the opposite of CNC Machining and Milling (known as "subtractive manufacturing"). 3d printing is a process to rapid prototype a 3 dimensional solid object from a digital file. 3d models/objects are created by depositing materials layer by layer that eventually forms a pre-designed shape.
Get a Free INSTANT Quotation
Click Here!
.
Why choose 3d printing for product development & prototyping?
The traditional manufacturing method of conventionally machining prototypes tends to be slow where more materials are generally used, especially when it comes to producing complex (functional) shapes.
3d printing enables designers and engineers to create prototypes faster and cheaper before reaching the stage of massive production. Hence, risks can be greatly reduced.
The current trend in 3d printing industry is that there is an increasing numbers of companies start to utilise 3d design and 3d printing to make their final products because the advanced 3d printers can now work with a wider range of materials.
Should my company or should I do it privately 3d Printing in-house (DIY) or outsource to a 3d printing service company?
With 3d printing, desired objects can be easily made which requires minimum assembly and customisation of a part is a lot easier than before. However, it can't be achieved without 3d printers.
For 3d printing DIYers, one thing have to keep in mind is the huge cost of the 3d printers as well as the time spent on researching and buy the right one. Remember you get what you pay for!
Another reason to get a local 3d printing service provider is to avoid costly 3d printing mistakes, just leave the hard work and technical stuff to the professionals, resting assured that the products/samples can be 3d printed accurately in shape and using the right materials and proper technology.
Need more in-depth knowledge in 3d printing?
Questions to ask before getting a 3d printing service supplier in Sydney, NSW
Before outsourcing your 3d printing service to a local vendor in Australia, it is very crucial to understand 3d printing thoroughly and understand what exactly you have been looking for. Below are a few questions that can help.
1. What are the 3d printed products/parts for?
Different materials should be used to 3d print different components which are used for different purposes. For example, sometime meta 3d printing is not the right choice and plastic 3d printing is better (see story in testimonial below)
2. What will be the size for the final printed product?
Different 3d printing service providers use various 3d printers to cater for different sizes of parts, so do make sure they are capable of doing the job well.
3. What colour is preferred for the 3d printing job?
When it comes to industrial 3d printing, yellow and red are the popular colors as they stand for safety which minimise risk at workplace, but the vendor should be able to do the printing using a variety of colours.
4. What level of accuracy and quality are required?
Usually different 3d printing suppliers can produce custom 3d printed parts for you but with different accuracy and quality. Always look for the one that can exceed your expectation.
5. What lead time is needed to get the parts 3d printed?
When it comes to industrial 3d printing, yellow and read are the popular colors as they stand for safety which minimise risk at workplace.
6. How much/What is the cost for outsourcing the 3d printing job inclusive or exclusive of 3d models design?
Everything comes down to cost/price. It is the same for 3d printing. Basically build time, setup and labour time affect the total service fee. For example if a 3d design/drawing is ready for use and printing, the cost is less than with NO part CAD model available or have design errors that needs to be amended.
What services can C-Mac (Sydney based) provide in terms of 3d printing?
1. 3d model and product design by our in-house Sydney based mechanical designers and draftsmen who have years of experience and qualifications.
2. Adopting the latest cutting edge technology and using our advanced 3d printers in Sydney, custom 3d printing your products/parts/samples/models with high volume run capability.
A couple of C-Mac's 3D Printing Case Studies: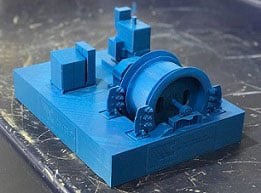 (1) This is a memento of a large cable winder, for a retiring worker that used to repair them. Printed size is 300mm X 300mm. 100 hours of printing in each unit.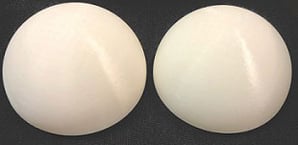 (2) This customer made fine hand made chocolates. They needed a chocolate mould manufactured overseas which was going to be very costly, and wanted to see what the component would look like physically before they ordered the expensive mould. The mould supplier emailed the drawing exported in .stl format to C-Mac who then 3D printed the finished component and our customer was then able to to see what the chocolate mould would produce before committing to its purchase.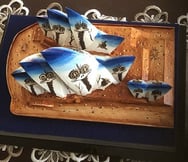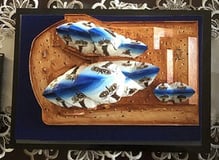 (3) This customer who is an artist asked C-Mac for assisntance of 3d printing an Opera House, so he could paint and frame it. He had his work projected on the Opera House at Vivid this year.
Why Choose C-Mac Industries as your 3D Printing Services Provider?
Accurate manufacturing times and material usage are known before commencement allows C-Mac to

accurately estimate the cost of your product

before we start.
Due to the large bed size, multiple parts can be created at the same time making multiple product manufacture feasible. Repeatable perfect prints are now possible.
With exceptional frame rigidity and precision parts, the machine

can print as fine as 0.1 layer height

. The higher the accuracy, the longer it takes to 3D print your product.
The Dual Headed Extruders nozzles are independently controlled, so you can print with different materials in each nozzle. Print in multi-colours, multi-materials or unlock the full potential of 3D printing with dissoluble supports.
The powerful 3d printing software

provides job statistics

including printing times and temperatures which are displayed during the manufacture of your product so that quality can be monitored and tweaks made to the finer settings for further product quality.
Contact C-Mac on (02) 9631 6000 to make an inquiry or
What Industries C-Mac has 3D printed in to date?
C-Mac has provided 3D printing service to the follow industries: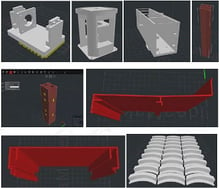 For Businesses:


Medical - Parts/Components of Medical Equipment
Pharmaceutical - Pharmaceutical products
Industrial - Product prototyping and for design improvement
Architecture - Small houses for displaying in Real estate/property showroom (eg. 3d printed

an Opera House for an artist to paint and put on display for an artist)

Construction - Small model of a huge product part/component for demonstration before massive production (eg.

Promotional concrete samples for a new type of product)

Horticultural & Nursery - Nursery plant pot prototypes
Manufacture - Product samples for testing product's functionality (eg.

Window extrusion manufacturers, Electrical equipment housings, Scaffolding)

Food/Baking Business & Restaurants - Moulds that are safe to be put into oven for baking; Artificial foods for displaying
Many other industries....
For General public
University assignment for Mechanical Engineering/Civil Engineering degree student - the short lead time of C-Mac's 3D printing service helped Uni students complete assignment ON TIME avoiding the long waiting times for 3D printers at their University/College
3D printing hobbyists/enthusiasts - Models in general such as Aeroplanes, figurines for games and movie scenes
The list can go on and on (The possibility is unlimited....)
Contact C-Mac on (02) 9631 6000 to make an inquiry or
The advantages Of C-Mac' 3D Printers & 3D Printing technology

The 3d Printing Machines being used to provide the service are fully enclosed and located in an air-conditioned room at C-Mac. With wifi connection and remote video monitoring, products can be made 24 hours per day.
3D Printing is highly reliable generally with no need to start the production run for reworks, even if there is an electrical power blackout.
The 3D Printing Dual Colour Plastic Extruder with twin nozzles has the capability of 10 micron accuracy producing products in various colours and types of plastic materials. Large build volumes are possible.
Specification:
Maximum product build size: 305mm x 305mm x 610mm in height
Layer revolution: 0.01 – 0.25mm
Maximum weight : 150kg on build base plate
Power outage li-ion battery memory backup of positional data and restoration
The bottom up printing machine operates at temperatures between 170 – 300 degrees centigrade
3d Printing Plastic Material types available: PLA, ABS, PC, PC-ABS, Filled-PLA, PETG, HIPS, and Flexible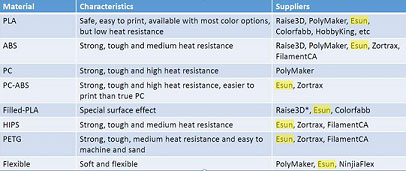 See below for C-Mac's 3D Printed Objects (Samples Only)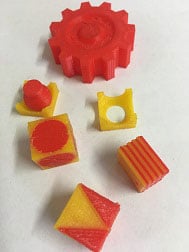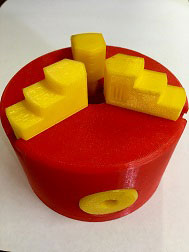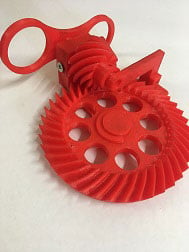 What C-Mac's Clients say about the 3D Printing Job we have done
"I must say I have been converted to and amazed by this 3D printing. With a small prototype design project the 3D printing enabled fast customised and most importantly a very cost effective solution. I chose to engage C-Mac originally because of their experience with metal work and ability to provide design solutions; though in the end it was all plastic and exceeded my expectations. The team at C-Mac suggested we use 3D printing and at first I was unsure - plastic, easier, strong...were all my questions.When I picked up the finished design, it delivered. I would definitely encourage someone for 3D printing for early design testing and the C-Mac team did an excellent job! Thank you!" --- By Richard
"Thank you so much for producing the RTD concept bottles, we are extremely happy with how they have turned out and look forward to working on other projects with you. Based on what you have supplied us we would like to expand our portfolio to include 3D printed samples to our customers and would be very interested in working with you and your team" --- Jessica, Sales Co-Ordinator/Project Manager
Contact C-Mac on (02) 9631 6000 to make an inquiry or
Overall advantages of C-Mac's 3d Printing Service (Sydney based)

Competitive prices in Sydney, Australia
Short lead times to get your components/parts/prototypes/products 3d printed.
Various colours & materials can be chosen for your specific jobs
Large build volumes are achievable

with quality and accuracy ensured

3D Prototyping Designers are available in-house to service you and give good advices
Interested in the 3d Printing Service provided by C-Mac? What to do next?
Simply send in your 3d drawing file in .stl or .obj format and make an inquiry by clicking on the yellow button below.

If you don't have a 3d model drawing file, our draftsmen at C-Mac can generate this for you at our standard hourly rate. 3D Printing opens up many possibilities in design of products and prototypes.
Contact C-Mac on (02) 9631 6000 to make an inquiry or