3D Design and Printing Services Summary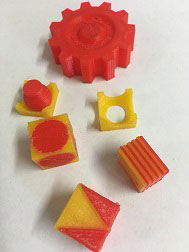 Utilising 3D designs and models are now becoming very convenient for designers, architects and engineers. From making schematics, mechanical designs, prototypes, etc., 3D design and printing services make it all easy.


Here are the 3d design, drafting and 3d printing services available at C-Mac:
3D Design (3D Modeling) Service

Your ideas can now be put in to print with C-Mac's 3D design and printing services. 3D Design and printing at C-Mac are done by skilled and excellent engineers and draftsmen which utilises ground-breaking equipment and 3D CAD software.
No Matter how complex your design is, C-Mac can help you make it happen fast through our 3D Modeling Design Service.... [Click here to see details]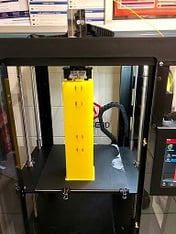 Once the 3D Design process is done, you can get the prototype 3D printed in a very short lead time. Hence, the design and the quality of the sample can be improved. Different materials and various colors can also be selected to suit specific 3d printing requiement
With C-Mac's advanced 3d Printing machine and the mechanical design and engineering team as support, your 3D Printing job is in safe hand with high ROI.... [Click here to see details]
Example: One of the special 3d printing jobs C-Mac has done
100mm X 100mm X 400mm long hydraulic manifold block made for a mock-up test to check fitment inside a cabinet. See image on the right.
Custom 3d Printing Plastic Parts
Plastic is one of the most popular materials being widely used for custom 3d printing. There are quite a few different technologies that work with plastic 3d printing.
No matter you are a company/business or general public/individual that have specific requirement on 3d printing and the parts/components to be 3d printed, C-Mac can help you with it.
There are more than 6 reasons to choose C-Mac as your 3d custom printing service supplier.....[Click here to see details]
Mechanical Design and Drafting

C-Mac's mechanical design and drafting team provide highly reliable services and quality outputs for your needs. They will work on your mechanical designs and use diagrams and schematics for product development.
With its photorealistic presentation of outputs using the cutting edge design software, your designs can be handled properly before real product testing. Moreover, your drawing is guaranteed to be accurate and easy to read.
Concept development of the product can be easy and fast with C-Mac's mechanical design and drafting experts. C-Mac also provides solutions to your specific drafting and design demand……. [Click here to see details]
Mechanical Prototyping
Prototypes are essential in the manufacturing process in order to detect early signs of faults and issues. At C-Mac, every aspect of your design is examined. Also, you can increase effectivity on your product design with the use of prototypes.
You can now achieve more accurate designs with C-Mac's mechanical prototyping services. With our fast and reliable customer service, you can directly contact the designer who is in charge to track the progress of your prototypes.
C-Mac is your one-stop shop for your mechanical prototyping needs. It is also locally available and highly customisable...… [Click here to see details]
Mechanical Products
If you want to enjoy the ease of transferring disabled patients and elderly people from one spot to another, C-Mac's bath hoist is what you need. It is cost-effective and time-saving to use.
C-Mac's mechanical products such as bath hoists are designed to reduce the risk of injuries that are caused by manual lifting of patients.
C-Mac is dedicated to providing high-quality and innovative mechanical products. C-Mac's bath hoists can also be customised according to your preferences.……… [Click here to see details]
Industrial 3d printing Service
When it comes to certain industrial prototyping, sometimes the traditional subtractive manufacturing method can't meet the specific requiremen. If a complex industrial part is required to be designed and produced, industrial 3d printing sometimes is a better choice in terms of design, ease of making and modidifation as well as cost.
Jigs and fixtures, end-use parts, concept models and visualisation aid have been widely produced in different industries using different 3d printing technologies.
Over over 50 years of experience in various industries plus the skilled team and the advanced 3d pinters in-house, C-Mac and provide fast and quality Industrial 3d printing service……… [Click here to see details]
3d Printing Gallery
If you would like to check out some of C-Mac's 3d printed products at 1 place, you can go to C-Mac 3d printing gallery page. They are only a small portions of what C-Mac has 3d printed. The gallery will be updated from time to time so more possibilities can been seen. However, with C-Mac's quality and competitive service, customisation is always achievable and you 3d printing job will be in safe hand.
Need more in-depth knowledge in 3d printing?
Interested in working with C-Mac to get your parts/products 3d printed?
Call us on (02) 9631 6000 or
, C-Mac can design your 3d objects from scratch or ".stl" or ".obj" file can be attached to get a 3d printing design modification quote or a 3d printing quote.