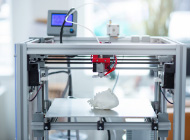 Creating 3D models will not be possible if there is no modelling and design software used. Nowadays, there are different modelling and design programs available in the market.
3D printing software provides users with various abilities which range from designing, modelling, rending until it presents a final product. These programs are also diverse in many ways in terms of their features. It can be difficult to choose which software is appropriate for your project.
Thus, here is a blog post which will discuss the most popular 3D modelling & design software for 3D printing and their characteristics. It is categorised into two groups which are for beginners and for intermediates and professionals. Read on below to learn more.
For Beginners
Listed below are modelling and designing programs that are considered as beginner-friendly. These programs are also perfect to use for open source projects for students, educators and hobbyists. Moreover, it is ideal for those who are just starting off with 3D printing.
TinkerCAD is an online 3D designing software for beginners. It allows you to combine primitive shapes. With its basic modelling operations, joining complex primitive shapes are also possible. This 3D software has functionalities that also extends to joining and subtracting shapes.
This software uses simple building-block concept to design 3D models. It can also be used for making logos and 3D texts. Although it is free, there are different price packages available with additional features. Moreover, its free version has its limitations in functions and resolutions.
Wings3D is an open-source software for 3D printing. This program is very user-friendly with its easy-to-use interface. Features such as mesh and selection tools and customizable hotkeys are also available.
Apart from that, useful facets such as intersect, plane cut, bend, sweep, etc. are also included. Although it has simple and plain look, it supports various file formats. It is perfect for those who are just starting out with 3D printing.
For Intermediates and Professionals
The programs below are often recognised and used by professionals such as architects, interior designers, engineers, etc. because it has more advanced options and features.
SketchUp is a 3D design software that is used as a tool for architectural landmarks, interior designing, civil and mechanical engineering, etc. It is one of the most popular 3D printing software.
SketchUp has a freeware version (SketchUp Make) and a paid version (SketchUp Pro). The main difference between the two is their ability to save, open, export and import files from other applications like TurboCAD and AutoCAD.
SketchUp Make is easy to use because of its intuitive user interface. Whereas SketchUp Pro is used commercially and is richly supported in exporting and importing features.
Blender is a free open source software used for 3D printing. This software has a highly impressive 3D modelling toolset. It covers various aspects of 3D creation which includes modelling, simulation and animation.
This software is known to be the best alternative to paid modelling software. Blender software is a starting point for designing complex 3D models.
SolidWorks is a solid 3D modelling that runs on Microsoft Windows. It is used for computer-aided design (CAD) and computer-aided engineering (CAE) computer program. This software is best for industrial 3D printing and often used by professional 3D designers.
It is also popular for its ability to rapidly create 3d parts. The designer can create and sketch 2D profiles then extrude and loft it to produce a solid shape. The only downside with this program is its hefty price tag.
Maya was originally a 3D animation software for simulation, animation and rendering purposes. However, it is also useful when it comes to 3D modelling and printing. It is often used by experts especially for artistic printing requirements and creating highly detailed 3D parts. Maya is also known for its fast rendering engine.
Inventor is a professional-level 3D CAD software which comes with freeform and direct modelling choices. This program requires a lot of training and experience to master its full features. Aside from mechanical 3D designing, it also features automation and simulation tools.
Furthermore, it has different software packages available depending on the level of proficiency.
Fusion 360 is another 3D program tool created by Autodesk. This software is a unique 3D printing tool because it is cloud-based.
This program is popular for its usability. It combines the capabilities of a high-end software with a user-friendly workflow and interface. It has various design options available which include solid and freeform modelling.
Onshape is a complete cloud-based 3D CAD system. In this software, a team can simultaneously work together with a shared document. It uses a web browser which gives every team member access to a CAD workspace. They can also edit it at the same time. Aside from that, it works with every system even on Android phones and iOS.
Conclusion
Understanding 3D modelling and design software thoroughly is vital especially for beginners, intermediates and professionals. If you are new to 3D printing software, then this blog post may help you.
With the use of appropriate 3D modelling and design software, you can discover and explore different ways to create aesthetic and detailed 3D models. However, if you come across huge challenge in 3D modelling and design when use any of the software above, it is recommended to ask for professional assistance in 3d printing.