3D Design Modelling Service
3D CAD Drawing

and Design Services Sydney
What is 3D Modelling?
When it comes to high-end designs on complex products or structures, it would be challenges for engineers, designers and architects to meet their client's specific requirement because there are so many details to look after. The solution to this problem is 3D modelling.
With 3D modelling design, you can explore your designs in aesthetic and detailed view.
It is a process of developing a model in three dimensions through a specialised software before making the product/part become reality. This type of drafting and design enable better visualisation and has been widely adopted in various industries.
Why is 3D Modelling useful?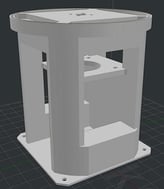 3D design modelling makes it easier for designers and draftsmen to turn their realistic imagination or concepts into realities.
Here are 3 reasons why 3D modelling design is useful:
3D design modelling is a quick process and lets you see the end result before it is built. It allows you to identify issues earlier so costly mistakes can be minimised. Utilising 3D modelling designs can also shorten the design cycles with 3D CAD software.
It is reliable for scenario visualisation
In terms of 3D modelling, you or your clients can visualise your design a lot better compared to 2D designs. Since 3D designed model are more detailed, professionals and can be tested and validated efficiently and effectively
In a 3D modelling design process, draftsman and designers can spend less time on measuring different parts of the structure in order to provide the precise model. The advanced 3D design modelling software where you can zoom, pan and rotate your 3D models in different views. In this way, your model becomes more precise.
Need more in-depth knowledge in 3d printing?
Why choose C-Mac for your 3D design modelling service needs?

C-Mac produces high-quality 3D modelling designs with its advanced software and equipment/tools available. C-Mac also has professional designers and draftsmen in house to provide you with exceptional concept designs and 3D modelling design services.
With a proven track record of over 50 years, C-Mac has been providing excellent customer services to our clients. For better communication and workflow management,
You can directly contact our detail oriented mechanical designers who in charge of the 3D design project.
C-Mac offers fast completion of your 3D design jobs. Our experienced mechanical designers, who are all well trained have been developing plentiful products and parts for many years, are striving for improving the turnaround time while not degrading the quality work.
If you are seeking a company which can provide excellent 3D design modelling service, you can contact C-Mac's 3D printing specialists on (02) 9631 6000 OR