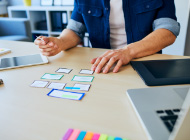 Prototyping is known to be a product design and development method that is used nowadays in various fields such as in mechanical engineering and software development. Basically, it involves the creation of a partial model to test a concept or process of an object.
Today, prototyping has been widely used because it has many benefits not only to the product designers but also to the consumers. Here is a blog post about 3 reasons why you should start prototyping.
Cost and time effective
Making prototypes is expensive. However you can test and improve the functionality of your design during its earliest phase of development. In prototyping, it is possible to test the performance of the materials to be used. Thus, it will help you choose the best materials for your design and production.
To avoid unnecessary expenses, prototypes are utilised to have a quick estimation on the materials to be used and the associated cost. In this way, designers can properly analyse the functions and overall quality of the product.
With the use of prototyping methods such as 3D CAD designing, Stereolithography (SLA), Selective Laser Sintering (SLS) etc., prototypes can help a design concept become realistic quickly. You will never know what are the possible issues and challenges with the design. And you do not want to waste your money and time later on when these issues will arise during (massive) production period.
Get feedback quickly and resolve early product issues
Close communication between product design team and customer is the key to an effective prototype model. User and designer's involvement in the product development process allows them to configure and enhance a model and then provide valuable feedback.
Whether you have customers or stakeholders, feedback will be vital to your project's success. The sooner you can provide them with the prototype, the quicker the feedback you can acquire and the process can be shortened.
With prototyping, design faults can be detected at the early stage in the development process. Prototyping can be an advantage since it is used as a platform to conduct several implementations and benchmarks for your product. You can quickly analyse product performance and make appropriate decisions.
Build better product through many iterations
For product designers, the goal is to test the product thoroughly and ensure that it all works as intended. In the prototyping process, you need to repeat a series of steps until the idea and design are validated.
In order to produce a high-quality product, you should run through Build-Measure-Learn loop as many times as you can. The more chances you get to improve the product's features and functionality using the prototypes, the final product will definitely be better.
Conclusion
As prototyping technology and techniques have been improved dramatically nowadays, designers and engineers have more chances to produce a quality and well-designed product before (mass) production. Prototyping help shorten the entire production process and provides a competitive advantage to the manufacturer.
If you have any mechanical design needs, a team of competent engineers and designers can provide you with innovative prototyping services. They also utilise advanced prototyping technology in order to create accurate and high-quality designs for your specific requirement.