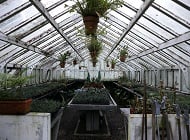 Potting benches or gardening tables are outdoor workbenches designed for nursery and gardening. This particular table provides a convenient place for nursery and gardening supplies and potting soils and medium. This is also the best place to store nursery and gardening tools and equipment. They are usually elevated to give a comfortable workspace to workers, horticulturists and gardeners.
When purchasing potting benches, choosing those that are constructed from durable materials is crucial. Generally speaking, metal is one of the most durable materials for potting benches/tables. Nevertheless, metal potting tables come in a broad range of designs, sizes and features. To find the right one, consider these 4 tips below.
1. Know the essential characteristics of a metal potting bench
Since potting benches are nursery and gardening furniture that are often placed outside greenhouses or shade houses, they tend to get wet and dirty. Hence, it's essential to select the best material that withstands moisture and sunlight. That's why a metal bench is a perfect option.
Most metal potting tables contain convenient storage space. This is the best place where gardeners can keep their fertilizers, seeds, potting soil and other gardening supplies.
To understand why a metal potting bench is better than a wooden potting table, below are their specific characteristics.
Metal potting bench
Metal potting benches generally have a clean and simple look. They are also highly rust-resistant. And they only require low maintenance. In addition, they are easy to clean. In fact, excess soil and debris can be removed easily from these tables.
Moreover, these potting benches can be placed either inside or outside the greenhouses. Since they are made from sturdy material, they can generally last for years. However, moving them into a garden shed or garage during winter is necessary to extend their lifespan.
Wood potting bench
Like metal potting benches, wooden tables are durable. They also have a natural look. Moreover, wooden potting benches are sunlight and insect-resistant. To give them added protection and extend their lifespan, occasional painting is recommended.
Conversely, wooden potting benches tend to be heavier than metal tables. This means that they are difficult to move once installed in the garden.
Another disadvantage of using a wood potting bench is that dirt and dust can stick easily on it. Wood surfaces can also be a possible breeding ground for moulds, bacteria and fungi. Thus, frequent cleaning is necessary for a wooden potting table.
2. Choose the right height
As with other benches, metal potting benches come in various heights. They typically have the same height as a standard kitchen counter which is about 36 inches high.
For shorter nursery workers and gardeners, they can opt for a potting table with an adjustable height mechanism feature. On the other hand, if the gardener wants to sit while working, choose a lower table with a chair and legroom.
Another good option is a nursery/gardening bench with a heavy-duty caster. With this feature, nurser worders or gardeners can add extra 5 inches to the table's height. Moreover, it makes potting benches easy to move in and out of the greenhouses.
Before purchasing, keep in mind that the table's height must be suited for the person working on it. This is to avoid stooping and back injury.
3. Choose a metal bench with a sturdy base
When it comes to metal potting benches, consider those with a sturdy base. This is to make sure that the potting table can hold large pots that are filled with soil.
Additionally, metal benches with a sturdy base are the perfect place to keep bulky gardening tools and equipment. Aside from that, these potting tables can carry heavy potting materials such as sacks of potting soil and fertilizer bags.
4. Look for metal benches with storage and functional features
Basically, choosing a metal potting table that meets all your gardening needs is essential. Below are some functional features to look for.
A built-in sink makes the clean-up process easy. With this feature, nursery workers and gardeners can collect soil, debris and other excess materials without a hassle. Moreover, a potting table with a sink can provide the users with easy access to water.
Basically, there are 3 options when it comes to a built-in sink. These are as follows:
Basin that needs to be filled with a garden hose - This is the most cost-effective option for a built-in sink.
A potting bench with a faucet – It contains a hose that is usually attached to the faucet.
Potting table with removable closed tubs - It is ideal for easy clean-up. This is because they can be removed after collecting debris and excess soil.
A potting bench with a cabinet makes the workspace neat. Gardening tools and equipment can also be organised easily. Moreover, a potting bench with a lockable cabinet can provide a safe place to keep pesticides and other hazardous chemicals.
A bench with multiple drawers is another great option. They can hold a variety of tools needed during the potting process. On top of that, drawers can provide secure storage for potting soil, hand tools and bucket pots. These tools and materials should be kept dry and protected.
A potting table with various shelves can provide multiple tiers of storage. This essential feature makes tools and equipment more accessible during the potting process.
Furthermore, certain metal benches come with a bar. A bar on a potting bench is an ideal place to hang gardening tools such as secateurs and pruning shears.
For hassle-free gardening, opt for this type of potting benches. These ready-to-use potting benches allow gardeners to go straight to gardening after purchasing.
Conclusion
Metal potting benches provide an excellent workspace for gardening. They allow nursery workers and gardeners to pot their plants with ease. Additionally, a metal bench is the best choice when it comes to durable nursery and gardening tables. They are mostly equipped with a lot of storage space to keep nursery equipment and gardening tools as well as supplies organised.
For those who need metal potting benches, feel free to contact a trustworthy nursery and gardening equipment supplier and manufacturer in your local area. They can definitely assist in choosing the best gardening bench/table with useful accessories and features.