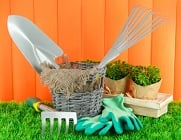 Gardening can be made easy through utilising different gardening tools and equipment. These tools can help to ensure safety as well as reduce time and energy when working in a garden. But not all tools and equipment are created equal. Hence, having enough knowledge in selecting the right tool and equipment is crucial.
Whether you're a first-time gardener or a professional landscaper, the tools to buy should suit the specific gardening tasks. Moreover, the durability of the equipment is the key to avoid repeat purchase which adds up the cost. In this article, 7 ways to choose the right and essential gardening tools and equipment are provided to assist gardeners and hobbyists in their initial purchase.
1. Prioritise quality over its price
Considering the price of the gardening tools and equipment is generally a good place to start. There are certain tools and equipment available within a lower price range. But it is worth noting that they are more likely to be uncomfortable to use and easy to break.
To make sure if a product is worth its price, heading to a local hardware or garden store is suggested. This can help to find out whether the product is made from durable material or not. It can also allow the customer to personally check the item for cracks, dents and any signs of damage.
Remember that it is worthwhile to invest money in high-quality and durable equipment rather than choosing cheap tools that cannot be used for long. This buying technique can help to save money in the long run.
2. Choose the best material for handle
After deciding how much money to spend on the equipment, another important aspect to consider is their handles. The type of material used for manufacturing handles can make a huge difference. It can also affect the weight and durability of the tools.
As a purchasing guide, listed below are a few types of materials for handles.
Wood – When it comes to handle, wood such as ash is the perfect option. They are usually strong and flexible. With proper use, wood handles can last longer.
Plastic – Generally, plastic grip is the least preferred type of handle. This is because plastic material tends to break easily.
Aluminium – Tools with aluminium handles are also light. However, they are the weakest among the materials used for making gardening equipment handles.
Carbon fibre – It is a very strong type of material suitable for making the handles. Just like aluminium grips, carbon fibre is also lightweight.
Fibreglass – Handles made from fibreglass are the alternative options. But like plastic they are easy to break.
Forged steel– Handles that are made from solid forged steel material are the strongest. Apart from that, they are easy to clean, lightweight and last longer.
Handles also vary in length. They can either be long or short. Long handles usually provide better leverage and enable users to reach places that can't be reached by hands. Too much bending is not required when working with them in the garden. As a result, gardeners can have good postures and reduce back injuries risk.
On the other hand, tools with short handles are useful when working in a tight space. However, a lot of bending to do the gardening job is often required with this type of tools.
3. Consider the tools with interchangeable head
Garden equipment and tools often have fixed handles that are made from different materials. But some of them are available with separate tool head components and handles. They are commonly known as interchangeable garden tools. They are versatile tools in the garden. In fact, gardeners can interchange their heads as desired. Their head components can either be garden rake, brush, trowel or fork.
Handles for tools with interchangeable system are typically made from wood and aluminium. They also vary in sizes.
The small ones come with a short handle. They are ideal for close-up gardening. Contrarily, large tools with long handles are perfect for stand-up work.
In addition, interchangeable garden tools are more expensive than the usual ones. But the investment is worthy because their quality is usually better.
4. Comfortable to use
Visiting gardening store and spending some time on checking the product is one of the best ways to ensure that the tool is comfortable to use. Trying them before purchasing can help spot which product is lightweight and can be used for a long period of time.
When picking gardening tools, the type of grip is a crucial factor to consider in terms of comfortability. Generally, gardening tools with padded and ergonomic grips are preferred to avoid aching hands and blisters. They are also perfect to reduce hand stress from hard gripping.
5. Easy to clean and maintain
Whether the tools that are easy to clean and maintain should also be taken into consideration. Remember that proper cleaning and maintenance of these gardening equipment and tools can prolong their life spans. Making them rust-free, sharp and well-shape is imperative.
Furthermore, wiping the metal parts before putting the tools into a storage box can also help to prevent them from rusting. For more detailed maintenance advices, just check the manufacturer's manual to find out how to keep them in shape.
6. Where to buy garden tools and equipment
It is always easy to shop online, but it might be risky since it cannot give the buyer a chance to hold the product first before purchasing. Hence, it is recommended to personally buy tools and equipment in local hardware or gardening stores. In that way, the store owners or sales representative can give some recommendations on choosing the most suitable gardening tools and equipment.
If buying the products offline is not an option, just buy tools and equipment from the most reputable online stores and suppliers. It is necessary to conduct some research and look for the trusted brand of gardening equipment and tools before placing any order. This helps avoid mistakes when purchasing products from online stores.
In addition, consider garage sales to get big discounts. It can even help find some high-quality garden tools at a lower price.
7. Product warranty
When choosing between different types of gardening equipment and tools, assessing the quality of the product can be difficult. Thus, when purchasing certain tools and equipment, it's good to know whether a manufacturer provides product warranty.
It is always a good idea to ask, "How long does the guarantee last and what does the warranty cover?" This can give the gardener a peace of mind and confidence that the product is worth buying.
Conclusion
To choose the right tools and equipment, maybe you don't have to spend a fortune to get the best equipment and tools. The product quality and the type of material used should be considered first. Aside from the quality, comfortability should also be considered. On top of that, it is vital to understand that taking care of these tools can help to make them last longer.
For those who need gardening tools and nursery equipment, please check out this leading nursery equipment manufacturer in your local area. They can give you advices about the most durable and appropriate equipment for gardening.