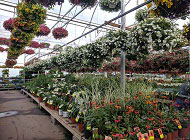 In recent years, gardening becomes immensely popular in more countries including Australia, especially during the pandemic. That's the reason why a lot of people are now interested to start their own gardening activities or even start a horticultural business. To get started, it's vital to look for a reputable supplier that will provide all their horticultural needs.
For beginners, finding a reputable supplier is not an easy task. To choose the right one, read this ultimate guide on nursery and gardening suppliers in Australia.
What are the common characteristics of a reputable supplier?
Most gardeners and horticulturists rely on getting their gardening essentials from one supplier. Hence, choosing the most reliable manufacturer is necessary. Below are a few characteristics of a supplier that people should look for.
Meet the customer's needs in an ideal lead time
Customers generally want their products delivered as fast as possible with minimal effort. This means that short lead time is a vital contribution to customer satisfaction.
Lead time is the duration between initiation and completion of a production process. A good vendor should prepare and ship nursery and gardening supplies in an acceptable time frame.
Meet a list of criteria
A potential supplier should meet a list of valuable criteria in order to meet the customer's needs. Below are some of the things that should be considered:
Payment terms and conditions – These are the ways and means by which a client pays for the products and services.
Return policy – These are the policies that allow customers to return products if needed.
Shipping capabilities – This is the ability of the supplier to deliver and ship products directly to customers' doorstep.
Product deals – These are deals, bundles and freebies that a vendor offers.
Stable and financially secured
If you are entering into a long-term deal, stability is an important characteristic of a reliable supplier. Thus, choose experienced vendors that are in the business for a long time.
Likewise, it is crucial to make sure that the vendor has sufficiently strong cash flow in order to deliver the customer's needs. Their credit history should also be checked to ensure that they won't go out of business when they are needed most.
Supply quality and reliable products
Reputable nursery and gardening suppliers are the ones who offer products and provide services that meet or even exceed the needs of your nursery and gardening business. Apart from that, the quality of their supplies should be consistent.
Good customer service and clear communication
Aside from supplying good products, a good supplier should provide exceptional customer services. They must have the ability to cater to customer's basic needs and resolve client's queries as fast as possible. On top of that, they should be knowledgeable in all aspects of the horticultural industry. This can be helpful in educating their buyers and giving them reliable information about their products.
Moreover, a good supplier should be easy to communicate with. Having clear communication between the customer and supplier can prevent any underlying problems such as delays and product nonconformities.
Apart from that, the communication should be open and direct. They should inform their customers about specific product information which includes delivery status and changes in product requirements ect.
Identifying potential suppliers
A broad list of nursery and gardening suppliers can be found via a variety of channels. Here are some sources of potential suppliers.
Recommendations
Friends and business acquaintances can give their recommendations on getting a supplier. They will likely give an honest review on the vendor's strengths and weaknesses.
Directories
Directories such as Yellow Pages, Yelp and True Local are the best places to look for a reliable nursery and gardening supplier in your local area.
Exhibitions
Attending exhibitions can be a great opportunity to meet and talk to a few potential suppliers in your local place.
Online
For clients who are unable to visit a physical store, research online and find the best online shop that can meet your demand. It usually provides a hassle-free shopping experience to their clients.
Suggested nursery and gardening suppliers in Australia
After getting insights into the characteristics of a reputable nursery and gardening supplier, it's now easy to identify the best one. Provided here is a list of some reputable suppliers in Australia.
This is a family-owned business in Queensland. They supply quality and affordable horticultural products for over 25 years. They help people to achieve their goals in gardening and landscaping.
They are one of the largest manufacturers of pot in Australia. They supply a wide range of containers, plastic products and containers throughout Australia and overseas. They have sales offices in Victoria, Queensland, New South Wales, South Australia and Western Australia.
They supply a variety of nursery and landscaping products. These include soils, sands, decorative gravel, building products, treated pine, nursery products, pavers, fertilizers and more. They offer quality products and provide efficient services to their clients.
This is a one-stop-shop that provide horticultural needs for over 40 years. Fernland is a family-owned business. They supply a comprehensive range of products to landscape, nursery and turf-care industries.
Downes wholesale nursery is one of the largest wholesale plant suppliers in Australia. They supply customers with a variety of native plants, exotic trees, groundcovers, shrubs and many more.
They are one of Australia's largest nursery suppliers. They have been in the business for over 40 years. They are capable of supplying plant material for any project like infrastructure or backyard renovations. They also supply a wide range of trees and shrubs.
They are the largest online and mail-to-order garden supplier in Australia. They help customers create beautiful gardens. Garden express supply gardening needs including landscaping trees, shrubs, indoor plants, bonsais and many more. Gardening tools and accessories are also available in their online store.
This is a family-owned business for over four generations. They are a wholesaler of new fruiting and ornamental trees. They also grow native trees, advanced ornamental, evergreen and many more.
Conclusion
A successful gardening project or horticultural business can become successful by dealing with a reputable supplier who supplies high-quality and proven nursery and gardening products.
For those who are looking for high-quality nursery and gardening supplies and equipment, check out a trustworthy and leading manufacturer in Australia. Their online shop provides a hassle-free shopping experience to customers.