ATV Tipping Nursery & Garden Trailer
ATV TIPPING HOBBY TRAILERS

C-Mac ATV Tipping Nusery & Garden Hobby Trailer is the latest development and innovation in 2016. It has been designed specifically to be towed behind ATVs (All Terrian Vehicles),tractors, electric vehicles and motor bikes.

The trailer is lightweight and well balanced, easily manoeuvred by hand and pushed around the yard.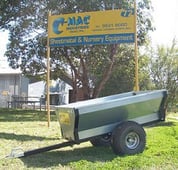 The tipping trailer can be ideally used by:





1. Gardener




2. Handyman




3. Retreats




4. Councils




5. Schools




6. Lawnmowing contractors




7. Hobby farmers




8. Bush track maintenance staff


9. Landscapers
10. F

arms, vineyards, nurseries, gardens and orchids and many more



Why Choose C-Mac's ATV Tipping Nursery & Garden Trailers?
FEATURES:
Tipping is an easy operation

Pivoting and Removable tailgate at front and back

Comes in a

flat pack

to minimise freighting costs and is easy to assemble

SPECIFICATIONS:
DIMENSIONS: 1500mm long X 950mm wide X 450mm height
500 kg carrying capacity
ATV Wheels: 22X10-10
Optional couplings either a ball or pin & clevis (see image below)
See Below for the drawing of the trailer:


Click here for "Plant & Equipment Finance"