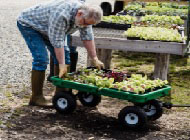 Using the right garden tools can make gardening easier. These gardening tools may include rake, spade, hoe, pruning shears, plant trolley and more. Among these tools, plant trollies play a very crucial role in gardening. This useful equipment helps gardeners carry and transport plants, bags of soil, fertilizers, gardening tools, compost and other supplies in their designated areas.
With this tool, gardeners can minimise the risk of getting back injuries when working in the garden. They can use this equipment instead of lifting and carrying bulky items and heavy supplies with hands.
For gardeners and nursery workers who need this valuable equipment, here are the 4 vital things to know about a plant trolley.
1. What is a plant trolley?
A plant trolley is also referred to as garden trolley, garden cart or nursery trolley. This useful equipment should always be included in a gardener's toolkit.
They are usually made of mesh for easy drainage and weight reduction. In terms of appearance, a plant trolley is often rectangular in shape. This is to offer more stability to people who are unable to balance heavy loads.
Using a plant/nursery trolley is a great way to move things in the garden. This is also ideal for gardeners who are working on a major gardening project.
2. Uses of a plant trolley
A plant trolley generally serves many purposes in the garden. As mentioned above, they can be used for transporting heavy gardening tools, supplies and other materials.
Other uses of a plant trolley are the following:
Ideal for carrying pots & seed trays.
It can be used as container in dumping weeds in the garden.
It is used to transport landscaping materials such as soil, plants, tools and stones to their designated places.
Using this tool can save the gardener's strength when working in the garden.
3. Essential features of a plant/nursery trolley
Each plant trolley is designed with slightly different features and purposes. Therefore, it's crucial to look for a nursery trolley that can meet the gardener's needs.
For reference, below are the vital features of a plant trolley that gardeners should look when planning to own one.
Easy Access
For easy filling and unloading, a garden trolley with a drop-down front gate should be used. This feature will help gardeners and nursery workers unload raking leaves, mulch or spreading compost easily.
Weight capacity
Another important feature of a garden trolley is their ability to carry heavy loads. The average transport loads for most nursery trolleys are between 150-200 kg. There are also heavy-duty plant trolleys that can load up to 400 kg.
Although most nursery trolleys can transport more loads, gardeners should still check their weight capacity. Knowing their maximum weight capacity will enable nursery workers to limit their haul in it.
Wheels
When it comes to wheels, gardeners can choose between a plant trolley with 2 wheels and 4 wheels. Each of these two options have their distinctive characteristics and uses.
1. Two-wheeled plant trolley
This is more lightweight than those with 4 wheels.
This is ideal to use when doing daily garden activities such as grass clippings and moving weeds.
This can be used when collecting garden rubbish.
This is also perfect for carrying small items in the garden.
2. Four-wheeled plant trolley
This nursery trolley features a pull handle.
This is more stable than those trolleys with two wheels.
It is ideal to use for moving things over rough terrain.
This plant trolley is great for hauling heavy loads such as bricks, sand and timber.
4. Plant trolley vs. wheelbarrow
Basically, plant trolleys and wheelbarrows are two useful tools in the garden. Their functions are almost the same. Nevertheless, each of them has its specific characteristics in terms of design, utility and stability.
A plant trolley usually consists of 2 or 4 wheels. This makes them steadier than a wheelbarrow. It is also perfect to use for moving heavy loads such as large pots, stones etc.
On the other hand, a wheelbarrow consists of inclining sides and 1 or 2 front wheels. Gardeners usually positioned themselves behind this tool to move and control them easily. This gardening tool helps in carrying manure, rubbish, weeds, soil or rocks.
Stability while transporting
A plant trolley is appropriate to use in transporting materials over a rough landscape. This is because they are more stable.
For this matter, a wheelbarrow can also be utilised. But it needs a lot of practice and patience to do the job. Likewise, gardeners should spread the heap evenly in a wheelbarrow. This is to prevent losing control and spilling the whole load while transporting them.
Conclusion
A plant/nursery trolley makes the gardener's tasks more convenient. Using this equipment is also a perfect way to safely move things in the garden and nursery. Moreover, utilising this tool reduces the risks of getting strain when performing manual tasks in the garden.
There are many options for this equipment. Thus, gardeners and nursery workers can choose the one well-suited for their needs. With all that, there's no reason to be reluctant in buying this valuable garden tool.
If you decided to purchase a quality plant trolley, feel free to ask the assistance of a reliable supplier in Sydney. They can supply various nursery equipment and plant trolleys needed in your garden and nursery.