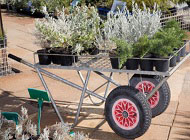 A plant trolley or nursery trolley is essential equipment in the garden and nursery. Generally, it is a large metal basket or frame that is used to transport heavy or large items. It usually has straight sides with two or more wheels.
In nursery and gardening, there are a lot of things that need to be transferred or transported from one place to the other. It could be compost, bags of soil, garden tools, plants, garden ornaments, weeds and many others. Without a plant trolley, transporting these materials could be a challenging task.
Purchasing a plant or nursery trolley can be overwhelming. To help nursery workers and gardeners get started, here are the things that need to know on how to choose a plant trolley or nursery trolley.
Know the items to be transported.
One of the things to be considered when purchasing a plant trolley is to know what items will be loaded onto the trolley.
There are nursery/plant trolleys that can only carry less than 225 kilograms. Others are designed to carry approximately 450 kilograms or more. Make sure to choose the one that will suit your gardening needs and preferences. If a smaller trolley is needed, pick the one that has a deep and wide bed.
Aside from that, knowing the sizes and shape of the items that will be loaded onto the trolley may determine if the plant/nursery trolley should have removable sides or high sides. It is important because they will not fall out of the trolley while transporting.
Material used.
When it comes to plant/nursery trolleys, it is vital to choose the one that is durable and long lasting. Among the common materials used for trolleys are galvanise mild steel, heavy-duty steel, aluminium, and even wood. In the shopping process, keep in mind that the weight of the trolley is largely affected by the material used. Therefore, it is advised to plan beforehand and choose your plant trolley wisely.
Types of tyres used.
Nursery trolleys that hold light loads usually come with plastic wheels. This type of wheel is also lightweight and will not easily pop or get punctured. Some of these plastic wheels have treads. For the garden that is surrounded by grass or has soft surfaces, a trolley with plastic wheels is a good choice.
On the other hand, medium - heavy-duty plant trolleys come with pneumatic tyres. This type of tyre is commonly made of rubber. Pneumatic tyres are ideal to use if the nursery or garden has rocky or bumpy terrain. These are also used for transporting heavy or large loads.
Bed material.
For nursery trolley beds, galvanised mild steel is the most durable material to use. Steel beds can last for years without being damaged at all. They can also withstand the harsh weather in Australia.
Lastly, a trolley with a plastic bed is considered to have the least quality. They are extremely lightweight and are prone to damage like cracking, especially when they are frequently exposed to sunlight. Thus, it is important to store it properly to prolong its life span.
Workplace layout
Before purchasing a nursery trolley, it is crucial to consider the layout of the nursery or garden. The plant trolley should fit the aisle width of the nursery. In the same way, the user with the trolley should go through or roam around the nursery or garden easily.
It means that the nursery/garden design is a key factor to consider when it comes to choosing the right size and shape of the plant trolley.
Manoeuvrability
One of the important aspects to consider when selecting a plant/nursery trolley is manoeuvrability which is the ability to be moved easily from one place to another. Moving a trolley can be difficult especially if it has loads on it. Hence, it is vital to choose a trolley that is more stable and can be controlled without a hassle.
For illustration, a single-wheel trolley can be turned easily. The user can handle it well in a narrow area. However, this type of trolley can become off-balance if it carries a heavy load while a trolley with two front wheels can offer better balance.
When it comes to loading and unloading garden supplies, select a trolley with removable panels for easier stacking.
Strength and ability of the gardener
The strength and ability of the trolley user is another factor to consider for choosing a right plant trolley. If a heavy-duty trolley is really required, make sure that the user has the strength to operate it in the long run. Picking an appropriate trolley size will make gardening tasks a lot easier with less stress.
On another note, a nursery worker or gardener can also opt for a plant trolley that is connected to a tractor or quad. This is ideal for moving high-capacity gardening supplies.
Conclusion
Using a plant/nursery trolley is an efficient way to load up various garden tools, supplies and potting soil. It makes gardening tasks less strenuous. Also, nursery staff and active gardeners will have lower risks of getting back pain and other injuries, especially when manually carrying various garden supplies.
If you are searching for quality plant trolleys and nursery trolleys, don't hesitate to contact a reliable nursery trolley supplier in your local area. A trustworthy vendor can always supply quality nursery equipment that is designed and manufactured in Australia.