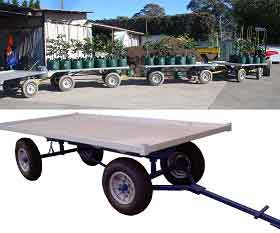 When you want to purchase a piece of nursery equipment, it is wise to consider where it is made. Is it manufactured in Australia or it is made overseas?
Before purchasing any horticulture machinery, find out where the equipment comes from. What are the differences between Australian made and overseas made horticulture equipment? This blog post provides you a few answers to the question.
Australian made or Overseas made?
Here are some factors that should be taken into consideration when choosing between Australian and overseas made nursery equipment.
Most US and European made nursery equipment is made to international and local specific manufacturing standards for designs, materials, electricals, and process control and have a long history of manufacture and experience in their developed sector of the market. Trades staff are highly qualified and trained again to a known standard. The old saying "You pay for what you get" is generally true.
Apart from that, you would also be paying for shipping fees, customs, brokerage services, and insurances which can add up.
To save money, you may think of buying a low-cost, made in China, Asia, India, and countries where experienced manufacturers do not exist, yet! Quality has historically been a problem and has presented many problems in the past with short life spans of equipment and failure of critical components and difficulties or non-existant spare parts.

On the other hand, Australian made nursery equipment has had and still has a reputation for quality, robustness and innovation. Without doubt, you have to pay for local delivery fees but not so much when comparing oversea freight costs.
Some horticultural equipment which has been manufactured oversea to suit their local conditions may not idealy suit Australian conditions. A well known example is that most European potting machines although made well, cannot handle the abraisive sandy condition of Australian potting mixes.
Another example is that European equipment is made to suit high volumes of one type of plant where in Australia most nurseries are smaller and need flexibility. So the answer is not always highly technical and elaborate equipment.
On the contrary, Australian made trailers have evolved over many years continuing to be modified, to be versatile and suitable for Australian conditions and applications. Nursery auctions see the self tracking trailers as the most sought after item even though they maybe over 40 years old.
To name a few other types of horticultural equipment designed and made in Australia e.g. spring benches, shade houses and greenhouses, potting trailers, manual potting equipment, potting machines, soil mixers, sterilising equipment, specialised benching and even pot lifters. You can find excellent horticultural equipment that will suit your nursery needs.
European made horticultural machinery is manufactured from quality materials along with good quality workmanship. You may then mistakedly think that it is then suitable for long-term usage and long life. Nevertheless, overseas made equipment may not be durable enough for Australian working conditions. It can wear out quickly after some usage.
Compared with oversea made equipment, Australian made horticultural equipment is designed to suit Australian conditions. For instance, even though this is a small item, C-Mac's Javo Soil Drill is specifically designed to suit Australian soil conditions as the standard supplied nylon drills from Europe wore out too quickly.

Where horticultural equipment is made overseas, you may have to wait on international freight to get replacement parts. When products arrive, you may come across a "big surprise" when it comes to being the right item. It is a headache to return/exchange the product you just bought.
Therefore, if you are after shorter lead times than play safe, locally made products are probably the best choice. You can easily get access to the manufacturers since they are local and not far away. Moreover, you can also review some changes face to face if the nursery equipment needs some modification to suit your specific need or just improving the product for the industry.
Getting maintenance and full technical support from foreign countries may be a challenge for you. For example, when nursery equipment is not working properly, how do you work out what the problems is? If it needs to be fixed immediately to avoid production loss, but.... it takes time for the replacement part to be made and then shipped to your place from oversea an overseas purchase may become regretable.
When you choose Australian made nursery equipment suppliers, full support and technical assistance is readily available. You can easily obtain spare parts if you need them because they are locally made and can possibly be sourced from several locations. You are not reliant on a single supplier. Local technicians can also go onsite to assist you if your equipment has an issue.
Differences in time zones and especially language can cause some delays when you try to communicate with the overseas supplier trying to explain what your problem or need is.
With domestic horticultural machinery manafacturers, you can contact them directly and quickly if you need some help urgently. You can possibly visit them in person and explain to them exactly what you want. Hence, confusion and misunderstanding can be avoided, which leads to potential loss of money and time wasted being minimised.
Relationships and longevity in business is what is needed in the horticultural sector. Encourage local businesses to support the horticultural industry.
Conclusion
Choosing the best vendor to purchase your nursery equipment may be a difficult task for you. Before purchasing any good horiculture equipment, you should plan it well because it will affect the production and efficiency of your nursery business and the future development of your industry.
Support Australian made businesses so they can support you.
If you want to invest in quality Australian Made nursery equipment, a wide range of items are available locally. Feel free to ask C-Mac Industries for any questions regarding horticultural & nursery machineries and equipment as we have been manufacturing them for over 50 years.