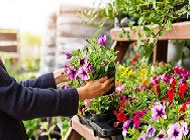 A plant bench can serve many purposes in a nursery or garden. It can be used for propagating, growing and handling plants. That's why it is often considered multi-purpose nursery equipment.
Choosing an appropriate plant bench is vital for efficient plant propagation. Using them can minimise the risk of injuries for workers especially when they are working on the ground. A plant bench also helps gardeners and nursery workers reduce labour cost in the long run.
Before purchasing any plant bench, it is important to have enough knowledge about it. For your convenience, below is an ultimate selection guide on plant bench. Read here.
Types of plant bench
Nowadays, plant benches are available in various types according to their purposes of use. Here are some of them.
Nursery plant bench
These are nursery benches that are used to grow and display plants in the garden. A nursery plant bench has five different styles. These are the following:
Single layer
Double layer
Triple layer
2 tier
3 tier
Using a nursery plant bench provides a lot of benefits to gardeners and nursery staff. It basically serves 2 purposes:
It increases work efficiency.
Instead of placing plants on the ground, gardeners and nursery workers can make use of a nursery bench to grow plants. It promotes better air circulation to plants which makes them grow faster. This can result in higher production rates.
Reduces injuries to workers.
Since a nursery plant bench has an ergonomic working height, it can minimise the risk of getting injuries. It can also reduce stooping and reaching when working with plants on the ground.
Rolling benches
These are moveable plant benches that are used to support plants above the ground. A rolling bench usually has a simple and economical design. As its name suggests, it can be moved by rolling it from side to side.
One of the main advantages of using rolling benches is that they provide additional production space by eliminating walkways. It also lowers the possibility of injuries to staff by reducing excessive walking.
Trough benches
This bench is also known as "trough subirrigation" or "gutter subirrigation". It is a special type of plant bench that is made for subirrigation systems. They are ideal for bottom watering pots.
Most trough benches are custom-built to suit a specific nursery. It can increase greenhouse efficiency by improving production capacity. It also allows plants to grow uniformly. Aside from that, it reduces any foliar disease in plants.
Potting benches
A potting bench can be used for potting up, propagating and dispatching plants in a nursery or garden. It can be purchased in various styles.
This is a simple plant bench/stand that is ideal for small nurseries. It is designed with a shelf underneath to provide extra storage for garden tools and other nursery items.
This potting bench has sides to prevent potting media spillage. This bench can either have two sides (right and left) or three sides.
Potting bench with fold-down side
This is a potting bench that has a side that can be folded up when the front-end loader is filled with soil.
Factors to consider when choosing a good plant bench
When shopping for plant benches, it is necessary to consider these factors below.
An appropriate plant bench height
A plant bench comes in various heights. However, gardeners should consider a plant bench with an ergonomic working height. This means that it should be a comfortable and convenient workstation for gardeners and nursery workers. This is to minimise the possibility of getting back pain and other related injuries.
The material it is made of
A plant bench is typically placed outdoors. This means that they get wet and dirty most of the time. Thus, it is vital to choose the one that can withstand harsh weather, especially in Australia. The most common types of material used for a plant bench list below.
A plastic plant bench is an option for gardeners since it is lightweight. They are also inexpensive. The only disadvantages of having a plastic plant bench are its quality and resistance to UV light may not be good. Plastic may have a shorter life span and it is not a durable choice for growing larger and heavier plants.
Metal plant bench is a good choice for nursery staff and gardeners, regardless they are growing heavy plants or not. For this type of metal plant bench, galvanized steel is commonly used. Metal benches are not only high quality with a lot longer life span, and also easy to clean. They can survive in various weather conditions in Australia and last for decades, which provides a high return on investment.
Another option for plant stand material is wood. They are usually chosen by gardeners for aesthetic purposes since they create a cosy look inside the garden. However, since they are often exposed to humidity, regular watering, and sunlight, they tend to rot, crack and swell easily.
Enough surface to work on
Having a large table surface is an advantage regardless the garden size. When space in your garden is an issue, opt for a plant bench with an extending tabletop.
Conclusion
A plant bench is a valuable piece of nursery and gardening equipment that every gardener and nursery worker should have. Hence, before purchasing, it is a good idea to plan and research thoroughly. This ultimate selection guide gives an overview to those who cannot decide which one to choose.
If you have decided which plant bench to purchase, you can now ask the assistance of a reliable Nursery Benches Manufacturer in Sydney. They can provide various nursery and garden benches that are valuable to your garden and nursery.