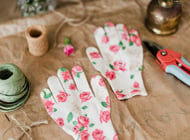 Christmas is just a few days away and we look forward to the special celebrations of faith, family and friends. Hopefully you've already got a horticulturally enriched Christmas celebration under way, blessed with the color of poinsettias, the scent and outdoors look of Christmas trees, wreaths and pine cones.


Gardening is a term that evokes different feelings in Australia. Gardening is a horticultural hobby that enjoys a lot of popularity throughout the world. The best thing about gardening is the simple fact that you really don't need to be in possession of a big country estate to enjoy gardening in its totality.
As concerns the purchase of gardening gifts, the recipient doesn't even need to be the owner of a garden after all. If your gift recipient enjoys pottering, then you can consider yourself lucky since this is a category of gardening that can be described as easy to buy for.
Gifts for large garden owners
If your intended recipient is the lucky owner of a large garden, then you might be in for some tough times. Think of something that will help him or her maintain their garden. A pair of secateurs for taking care of the topiary or some tool kit for use in the garden would be a welcome idea.
Gifts for small plant hobbyists
If your spouse or loved one has always wanted to protect their plants and let them grow better, then Greenhouse or Shade house is a good choice.
2. Pot lifters
Nothing is more import than health. Repetitious bending and lifting of heavy items, such as pots, might cause of back injuries. To avoid bending or straining, pot lifter is a good back-saving gift.
3. Benching
Apart from reducing risk of getting injuries, benching can also tidy the mess in their garden and display their plants nicely.
4. Other special gifts
One of the most special gifts may be the gift of your own time to help landscape their yard, to help with tree trimming, mowing, digging a new flowerbed or countless other projects. If you aren't able to do the labor yourself as a gift of love consider hiring a nursery or landscaper to do these projects for you as a gift.
In conclusion, whatever gift you choose to give just as long as it is coupled with love and thoughtfulness and is given whole-heartedly, the recipient will surely be happy to receive it. If you choose a gift with the recipient's happiness in mind, you can never go wrong.
C-Mac wishes you a great holiday season and a very Merry Christmas!