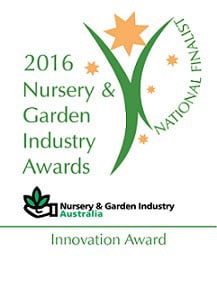 On 10th of December 2015, a list of finalists for Nursery & Gardening Industry Innovation National Award was announced, C-Mac Industries is a finalist.

The judgement on becoming a national finalist in the 2016 Nursery & Garden Awards was based on the principles of credibility and fairness as well as requiring entrants to demonstrate their point of difference and exceptional business practices.

"Due to the changing industry environment and the subsequent demands put on businesses, their conscious choice to strive for best practice, sound management, exciting marketing and uncompromising green life quality is particularly commendable" says Mike Mehigan, President of Nursery & Garden Industry Australia.

As one of the finalists, C-Mac will soon receive detailed information on the second round of judging, which is scheduled for between January and February in 2016.

The final winners for all categories will be announced on Wednesday 17 February at the Awards Gala Dinner at the Adelaide Hilton and the Gala Dinner is the end of the 2016 Nursery & Garden Industry National Conference which runs from 15 –17 February.

Congratulations and all the best to C-Mac in the final round!