Ben White, General Manager of Sciqual International flew down from Brisbane and travelled out to C-Mac Industries which is a Manufacture Workers Cooperative in Western Sydney.
Sciqual is C-Mac's contracted quality assurance auditor and certification provider for ISO 9001:2015 and first accredited C-Mac way back in December 1996 when QA systems were being encouraged and a requirement for government purchase contracts .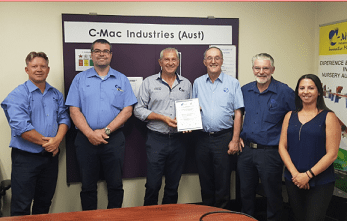 Left to right: Eric Van Niekerk (Sheetmetal Manager), Luke Rigg (Engineering Manager), Steve Grlyak (General Manager), Ben White (Sciqual General Manager), Robert McMaster (Director- Marketing), Sabrina Tawil (Accounts)
C-Mac was presented the award – "20 years achiever for continuous QA accreditation".
Ben mentioned that there is only a handful of his customers around Australia that have achieved this milestone. A testimony to the resilience and longivity of the business due to quality improvements being constantly implemented.
Look forward to C-Mac's next 20-year award with Sciqual International!