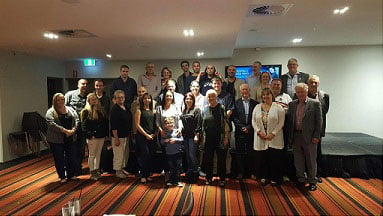 C-Mac Milestone was recently achieved - Formation Meeting for C-Mac Industries (Aust) Co-op Ltd was held on Wednesday 26th April 2017 at the Toongabbie Sporting Club.
Staff and wives attended and enjoyed a meal and formal proceedings to ratify Directors, election of Chairman and Secretary of the C-Mac Co-operative. The "Disclosure Statement" was presented and questions answered. Finances and forward budget for 2018 presented and the new general manager (Steve Grlyak) ratified for the co-operative.
A show of enthusiastic hands and a unanimous vote for the registration of the co-op to proceed was a high point of the night. Department of Fair Trading just needs to approve C-Mac's method for dividend distribution to members, then membership applications can proceed.

A lot of work now needs to be done to finalise the registration process, preparation of documents, new bank accounts, customers to be notified etc for the succession plan (walk out, walk in process) to be implemented on the1st July 2017.
Margaret McMaster closed the meeting with her short welcome speech! Now Robert McMaster (retiring general manager) can start contemplating his part time employment and retirement.