Last Wednesday, co-hosting with Parramatta City Council, C-Mac industries Co-operative conducted a practical seminar about the "Innovative succession option for any business in Western Sydney" at DOOLEYS Waterview Club in Silverwater.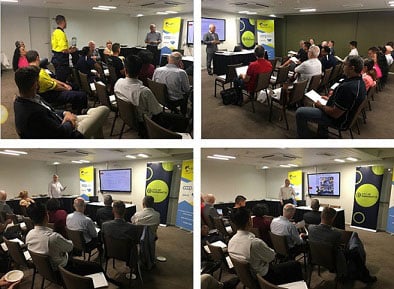 The presenters at the event were Robert McMaster, former General Manager representing the family business (C-Mac Industries), Steve Grlyak, General Manager for C-Mac Industries, Dr Anthony Jensen from Newcastle University and Frank Webb CPA, an accountant and business coach.
The event aimed to give an overview of 5 strategies for exiting a business, a check list of each strategy, an understanding of the strategy of employee ownership from the perspective of: the business owner, the employee, international expert on employee ownership and the facilitator. It also gave an outline of the free 8 session programs to understand the strategies of the succession process and the implications of the 5th Alternative – Employee Ownership.
The seminar was started with a welcome speech by Lucy Brotherton, a Community Capacity Building Officer from Parramatta City Council. Then, Robert McMaster gave their former owner's story. He persevered with several succession models until the employees obtained the business.
The second speaker was Steve Grlyak who presented what the employees thought. Steve was a toolmaker and former manufacturing manager who led the staff through the transition to employee ownership.
Dr Anthony Jensen introduced an academics point of view on employee ownership. Lastly, Frank Webb presented his understanding of the strategy of employee ownership from the perspective of a mediator including the coaching issues.
The last part of the event was the Q & A and networking session.