On behalf of the WSABE Organising Committee, our sponsors and the Parramatta Chamber of Commerce I am writing to congratulate you on being a finalist in the Western Sydney Awards for Business Excellence 2012.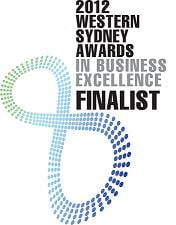 A gala presentation event on Thursday 11 October at the Waterview in Bicentennial Park will announce the winners of each category. C-Mac is in the category "Excellence in Manufacturing".
Unfortunitly C-Mac didn't win. The organisers are saying there was a record number of applications this year. A great result just to become a finalist.
C-Mac booked a table (10) and invited the young promising men and their partners, the future leaders – all under 30 years of age. The C-Mac management team were happy to sacrifice the night to give the young guns an opportunity to see big business on a big night.
Just as well C-Mac didn't win because the youthful enthusiasm would have been embarrassing amounst all the grey power!
The Western Sydney Awards in Business Excellence is a celebration of business in Western Sydney - our state's economic power house. Finalists and award winners deserve a wide audience to recognise and acclaim their amaizing achievements.
The gala evening affords business people across all Eastern Sydney the opportunity to acknowledge their peers, clients and colleaques at a high profile event supported by state and local government as well as the business community.