Cyclone Debbie brought heavy rains and strong winds to Northeast Australia
A powerful cyclone hit northeastern coast of Australia early Tuesday, 28th March 2017. Cyclone Debbie was forecasted to be a category four storm. It was supposed to reach up to 300 km per hour (185 mph). However, it has been downgraded to a category three storm after it crossed Queensland coast later in the afternoon.
Strong winds averaging 65km/h, with gusts more than 90km/h were expected to slam into NSW. Thousands of families especially those who lived along Australia's east coast were advised to evacuate as early as possible.
Cyclone Debbie brought death, destruction and severe flooding which caused a great impact to many families and businesses in Northeast Australia.
Training Session on Sand Bagging Machine was conducted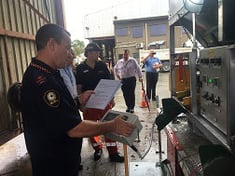 Days before Cyclone Debbie, a twin Ezi-Bagger from C-Mac Industries was mounted on a trailer with generator, scales and conveyor and delivered to the Gold Coast City Council.
An induction training session was conducted (in a truck wash bay to get away from all the rain). Approximately 15 council staff and a couple of SES workers attended with umbrellas.
The training started with a brief history of the sandbagger machine and its various uses. There were some WH&S instructions and after that, they set-up the machine.
There was also a discussion on the practical do's and don'ts of filling the machine with sand and soils, the filling of sand bags, the number of operators required and how to maximise the output.
Twin Ezi-Bagger successfully passed
The bagging machine passed with flying colours and was put to good use a few days later when the rains and havoc from Cyclone Debbie arrived at the Gold Coast.
C-Mac Industries' SES Sandbagger has a long history of working with SES to fill sand bags with sand, efficiently in all conditions. The impact of disaster prevention usingsand bags has saved many properties.