Shade Houses With Special Covers
Sydney based Special shade house and Mini shade house kit supplier and manufacturer for over 50 years.
Austrlian Made locally with high quality Small garden shadehouse kits shipped Australia wide (Perth, Melbourne, Canberra, Brisbane, Sydney..……)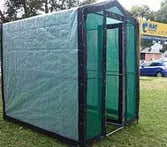 What is a Shade House with Speical Cover?
A shade hosue with cover is a structure in which plants are grown. It can also be called a glasshouse or hot house. It is comprised of a frame structure with different types of covering materials, such as glass, woven fabric or plastic on the roof and walls.
There are many different sized shade housess, ranging from mini, small to huge commercial sizes.
In the large commercial shadehouses, high tech production facilities are usually installed for maximising growing efficiency e.g. fans, humidifiers, misting, automated watering and fertilising, climate control devices, lighting systems, automated venting, ebb and flow benching, heated benching, rolling benches etc.
Why Use a Special Shade House with W

oven Fabric Cover

?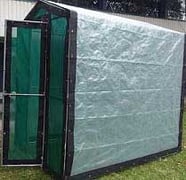 A shade house is not only useful to plants, but also beneficial to growers. See the reasons for using a Shade house with special cover below.
For plants
Propagating seeds or cuttings ready for potting. Grow plants, fruit and vegetables to maximise production rates
Provide protection from wind, rain, snow and any other extreme weather conditions
Prevent damage from pests and animals.
Provide ideal growing conditions
For growers
How do C-Mac's Special Shade Houses work?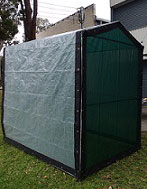 A greenhouse works by collecting light and converting that light to heat within its structure.
The structure and covering material reduces the rate at which thermal energy flows out of the structure after the sunshine is absorbed into the greenhouse. Glass or plastic is the typical material for lining a greenhouse as it allows sunlight to pass through.
The air inside the special shade house is warmed by the heat from the interior surfaces and is retained in the building by the roof and walls. In other words, this special product:
Collect solar and absorb heat
Stores thermal energy and releases energy in a controlled manner.
Moderating and controlling temperatures and breezes create an ideal, controllable environment for plants to grow and thrive.
Which plants are suitable to grow in these shade houses?
Fruits such as strawberries, raspberry, peaches, grapes, melons, oranges, lemon…….
Cool season crops like lettuce, broccoli, peas and carrots…..
Warm season vegetables such as spinach, cucumbers, tomatoes, eggplant……
Cutting flowers such as oriental lilies, some specific sunflowers and dianthus…….
Seeds that need a warm and constant temperature
Starting off hardy plants earlier than outdoors to produce more crops per year
Why choose C-Mac's

special

Shade House?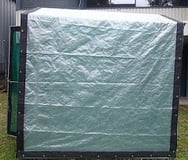 C-Mac's special shade house is different from other greenhouse/glasshouse or hot houses. It is an accessory or add-on to our existing shade house steel structures. A removable woven fabric is used to cover the whole shade house to make a greenhouse.
In other words, C-Mac's special shade house is not a typical greenhouse, it is actually a SHADE HOUSE with a special cover. (Need some more info on C-Mac's normal Shade house? Please Click here)

Either leave the existing shade cloth on and cover with plastic woven fabric or remove shade cloth and have a "special shade house" as desired. Interchangeable.
Can be used as a greenhouse in winter and reap all the benefits. When it comes to summer when a shade house is needed, simply remove the woven plastic fabric cover to enjoy all the benefits of having a shade house.
Flexible
Use

removable

woven plastic fabric covers to turn a shade house into a special one or just add a roof or side panel as your environment dictates.
Use simple cable tyres through eyelets located in reinforced plastic woven fabric edging
Steel frame supplied in D.I.Y. kit form.
Precision made patented steel joints which simply socket together (like tent poles).
Easy to assemble with easy to understand 3D instructions – no bolts or clamps.
Large range of bench kits available for use in the greenhouse - using the same materials and construction methods.
Component sizes are designed to fit on 2400 x 1200 standard pallet to save on transport costs for deliveries throughout Australia
Our shade house with special cover can be easily modified specially to suit or adopt to sloping ground in back yards - save excavating
Very large range of shadehouse sizes are available that suit most site sizes
High Quality
Proven performance with an

Australian made

product developed over the last 50 years.
Strong and sturdy steel frame construction.
No sharp edges or protrusions to damage valuable woven fabric covers.
Frame is spaced off ground for extended life.
Made from heavy duty galvanized steel tubular frames.
Spare Parts Availability
All your purchasing details are saved in our MRP computer system
Spare parts for easy & prompt part replacement can be provided
Replacement parts are still available for product over 50 years old
Great Support
Easy-to-understand product assembling instruction
C-Mac offers phone call support if any issues during assembly
C-Mac provides quotes for government and council grants
"Urgent" quotes can be provided on request
Cost efficiency
Save cost of purchasing an additional shade house to protect your plants in winter (no need to)
For those who already have a shade house you can add the woven plastic fabric cover to transform your shade house into a greenhouse when seasons demand.
Specification
Tube Frame
Heavy duty galvanized steel tubular frames - 25.4mm diameter x 1.6mm (Galvanized internally and externally)
Galvanised steel tube has a long life – not ultra violet light affected like plastics.
Galvanised steel tube is impervious to white ant attack
Woven Fabric Cover
Solarpro Natural 180gsm transparent woven plastic fabric
100mm Black Aquatica edge binding
Brass eyelets every 300mm
Up to 15% Shade
Clear natural colour
Extra strong and high impact durable
U.V. protective panels
Top quality woven fabric covers with individual removable panels e.g. roof or sides only or fully cover your shade house
Simply tie to frame using plastic cable ties through eyelets providing a smooth, tear free, clean finish
5 Year Manufacturers Warranty Against UV Breakdown*
Solarpro Shadehouse Fabric
C-Mac's shade house fabrics are made from transparent UV stabilised HDPE (high density polyethylene) with a reinforcing scrim woven in to provide strength and durability.
Specially designed for use in horticultural situations to control environments by keeping water out whilst allowing warmth and light into greenhouses. Using a special fabric on your shade house can improve the productivity and performance of your seeds, plants, flowers and vegetables.
Door
Easily accessible and lockable door
2.1 metre high door openings:
Flexible and can swing in or out for accessibility and ventilation
Legs
450mm long extension legs for concreting into uneven ground
Replacement parts
Correct fit: Customers can re-fit themselves (No tradesman required)
Identifiable: Parts easily identifiable by using the assembly drawings
Cost Efficiency: Shipment cost and replacement parts are cost efficient
C-Mac's special shade house size range enables a perfectly sized unit to be selected for the home gardener which will be ideal for seed propagation and growing plants, fragile flowers, fruit and vegetables in a warm, controlled and structured environment by allowing sunlight and breeze to travel through. Keep your plants warm but free from burn and drying out.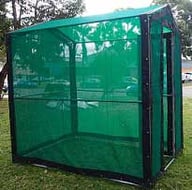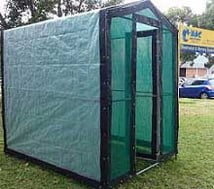 (transparent HDPE fabric) (Shade cloth covered only) (shade cloth covered with HDPE fabric)
With its Australian made quality, flexibility feature (easy to assemble kit form, and removable woven fabric cover) and its low cost advantage, you'll enjoy growing your plants in our special shade house!
Contact us on 02 9631 6000 to make an inquiry OR

for the shade house with special cover
Please note:
C-Mac's special greenhouse is not a typical greenhouse, it is made of a SHADE HOUSE WITH SPECIAL COVER. C-Mac is not manufacturing any greenhouse/glasshouse/hot house. We have been manufacturing HIGH QUALITY shade house in Sydney for over 50 years.

(1) Lead time applies to C-Mac's special shade house with woven fabric cover as it is locally Made in Sydney Australia (2) Custom sizes are possible (Extra cost applies)

"Lead Time to Manufacture": 8-10 Weeks