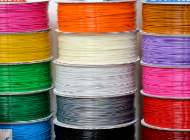 Nowadays, there is a wide selection of materials that can be used for 3D printing. Among all of those, ABS filament is the most used materials. It is also a great option when printing with FDM/FFF printers because it is readily available.
Some designers and engineers choose ABS filament because of its strength, durability and other remarkable features. It is also the ideal material to manufacture low-cost prototypes.
Learning more about ABS helps you decide if it is the perfect material for printing your 3D part. Here is a blog post about 4 vital things you need to know about ABS filament.
What is ABS plastic
ABS or Acrylonitrile Butadiene Styrene is a part of the thermoplastic polymers family. It is one of the most popular plastics used today. It is also one of the first plastics being used for industrial 3D printing. ABS filament is widely used in most industries because it is easy to process, easily machined, sanded and glued.
Today, ABS filament is commonly used in LEGO bricks and bicycle helmets. You can also find it in pipe systems, home appliances, toys, musical instruments, medical devices and many more. Moreover, it is a type of material that is frequently used in household 3D printing.
ABS filament details
ABS is made from monomers Acrylonitrile, 1,3-Butadiene and Styrene with petroleum as the basis. This kind of plastic is known for its sturdiness and impact resistance. This filament will allow you to print durable 3D parts that are able to hold up plenty of usage and wear.
A raw form of ABS material is in colour white. Because of its neutral colouration, it can be dyed easily according to your desired colour during the manufacturing process.
Hardware requirements:
Heated bed temperature: 95ᵒ-110ᵒC
Extruder temperature: 220ᵒ-250ᵒC
Environment: Closed chamber is required
Part cooling fan: Not required
Special hot-end: Not required
Cost of ABS filament
A 1-kilogram spool of ABS filament costs from $14 to $60 depending on the quality and variation. ABS is also available in pallets. A 1-kilogram bag of pallets cost around $10. ABS pallets are much cheaper compared to spools. However, you will need a special type of extruder when printing with pallets.
Benefits of using ABS filament in 3D printing
Here are some of the benefits of using ABS plastic in 3D printing. Read on below.
Great mechanical properties
ABS is known to be strong and durable material. It is resistant to heat and everyday chemicals. It can also endure more to stress, heat and pressure comparing with other 3D printing materials. Because of that, ABS is a great choice for "wear and tear" 3D prints.
As long as the settings are right, you will get good results when using ABS filament. With this material, you can even print overhangs around 45ᵒ. This filament oozes and strings lesser compared to other filaments and give models smoother finish.
ABS material is easy to process with acetone and glue parts. You can even file off some materials and painted it with acrylic colours.
Downsides of using ABS plastic
As good as it sounds, ABS plastic has also its own list of drawbacks. Below are some of them.
Proper temperature management is needed when printing ABS filament. If it cools quickly, there may be cracks or split layers on the 3D parts. To get perfect prints, your 3D printer should has an enclosure.
This material cannot withstand damage from direct sunlight. Thus, if you want to 3D print some parts for outdoor usage, you might want to consider other materials such as PET.
Foul smell during printing
One of the drawbacks of printing with ABS material is having a foul smell during printing. ABS is known to release toxic fumes called VOCs or Volatile Organic Carbon. This is the reason why it has a foul odour when being extruded from the 3D printer.
Common problems (e.g. curling and wrapping)
Curling and warping are common issues when printing with ABS filament. Warping occurs because of the huge temperature differences between layers of extruded plastic. As a result, it creates tension within the model and the lower layers of the 3D part start to lift.
Conclusion
ABS filament is one of the most popular and commonly used materials for 3D printing. It is a low-cost material that is ideal for producing tough and durable 3D parts. Aside from that, it is widely available in the market today.
If you want to use ABS filament for your next 3D printing project, you can ask a local 3D printing service provider to assist you. They can also provide services for your 3D printing needs such as 3D design and modelling service, custom 3D printing, industrial 3D printing and many more.