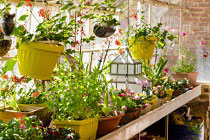 One of the most common dilemmas for gardeners and nursery workers is how they can effectively utilise the space in their greenhouse. Unfortunately, some require inspiration on how to save space in a garden or nursery. Even worst, others don't have a lot of room to make the most of their nursery since it is small.
When thinking about utilisation of space, gardeners and nursery workers can consider shelving. Shelving is generally a set of shelves or something that is used to organise a place or structure. In a greenhouse, shelving can be either attached to the interior or laid on top of the built-in frame. This will provide extra space for organising plants and gardening essentials.
For gardeners and nursery workers, here are 5 shelving ideas to optimise space in a greenhouse.
1. Utilise a potting bench
A potting bench is definitely the most comfortable tool to use for potting plants. This is because gardeners and nursery workers can do their tasks on benches without constant stooping and bending.
In addition, a potting bench is a perfect area for keeping gardening supplies, tools and equipment nearby. With the use of this particular bench, the greenhouse will be free from clutter.
Generally, it is ideal to use a potting bench that is easy to assemble, durable and has a smooth surface. As a guide, here are the two common potting benches and their specific characteristics.
has a simple look
requires low maintenance
easy to clean
sturdy and lasts for years
2. Wood potting bench
has a natural look
they are heavier than metal benches
dirt and dust can easily stick to it
requires regular maintenance
2. Install a shelf kit
Shelf kits are basically DIY shelves. They usually come with complete parts which make them easy to install. Their packages usually contain shelves, support grommets, brackets, screws and other accessories. An instructional manual is also included to guide the users on installing them.
A shelf kit that is easy to reposition is a good option. This will allow the gardeners and nursery workers to move them throughout the greenhouse.
Certain shelf kits can be attached to the frame of a greenhouse. These shelf kits can create more workspace if they are mounted in a greenhouse side by side.
3. Use staging shelves
Staging shelves are primarily used to give plenty of space for storing plants. These shelves can be either built-in or removable. Both options have a vital purpose in a greenhouse.
The removable staging shelves can optimise the space in a greenhouse during summer since they can be placed outside for border crops. Whereas the built-in ones can be useful storage for tools, seeds and pots.
Staging shelves can also provide more shaded areas for plants. This is beneficial for plants that require low light.
With all these essential benefits, investing in a staging shelf is all worthwhile. But before purchasing, it's crucial to assess the space and needs of the plants. This is to get the ideal one for the greenhouse and the crops.
Here are just a few characteristics to look for when selecting a shelf for a greenhouse.
Has a designated potting bench
Certain shelves come with a potting bench. This shelf with a designated potting bench is perfect to use in a greenhouse. Hence, there's no need to buy a separate potting table.
A shelf with a hole is also a good option when selecting shelves. The hole will give plants good air circulation and drainage. The drainage helps in reducing the excess water from plants. Stagnant water should be removed from plants because it may serve as a breeding ground for pests and diseases.
For added flexibility, shelves that are freestanding should be considered. Other good options are shelves with wheels. This will allow gardeners and workers to rearrange plants easily.
Using an adjustable shelf allows gardeners and nursery workers to adjust the shelf according to their heights. This will also give them easy access to the storage.
Make sure that the shelf is durable and lightweight. With that, a well-made metal shelf is recommended since they are built to lasts. They also require low maintenance and are easy to clean.
4. Create separate zones in a greenhouse
Zoning can help utilise the space in a greenhouse efficiently. Through zoning, gardeners and nursery workers will be able to plan where to place their shelves and benches inside the greenhouse.
Organising gardening tools and equipment in a specific area can help reduce time on finding them. Basically, they can be kept on shelves nearby to make the place neat and to easily get them when needed.
Dividing the greenhouse into zones is also good for growing plants. With zoning, plants can be separated according to their temperature requirements. For example, plants that require more light can be placed near the heat source while the cold-tolerant ones should be separated from the heat. This zoning technique can provide optimal conditions needed for plant growth.
To separate space inside a greenhouse, consider these zoning aspects below.
edible plants area
non-edible plants area
storage area
potting area
flower zone
planting area
cutting area
propagation zone
harvest time
watering
plant types
5. Use hooks, hang pots and other greenhouse accessories
Another great idea to free up space in a greenhouse is to hang pots, tools and equipment and other garden accessories. Gardeners and nursery workers can also hang some plants outside to make the greenhouse more attractive.
They can use the space underneath the roof by fixing hooks to the rafters of a wooden greenhouse. On the other hand, if the greenhouse is made from aluminium, just stick the hook directly onto the frame. This can be a perfect place to hang gardening essentials such as watering cans, gloves, tools, herbs and many more.
Conclusion
It is essential to make the most out of every inch of the greenhouse. Having a well-utilised space can help gardeners and nursery workers create a better working environment. With that, shelving can be an effective tool for gardeners who want to maximise space in a greenhouse. For those who are planning to try shelving, these 5 space-saving tips can be considered.
If you are looking for durable shelves and benches in Sydney, don't hesitate to contact a trustworthy and reliable Nursery Equipment supplier. They also supply other valuable nursery equipment such as trailers, shade houses, plant trolleys and many more.