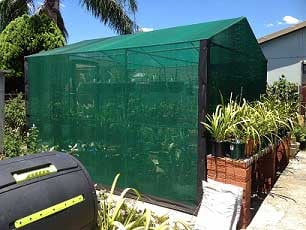 Lack of direct sun exposure should not be the reason to stop you from growing your own vegetables in your garden. Although many vegetables need a lot of sunlight, some will actually thrive in cool and darker areas in a shade house. Apart from that, you should also consider what kind of vegetables can be grown in/under shade.
To fully understand this, here is a blog post to guide you on how to grow vegetables in a shade house.
How much sun do your vegetables need?
There are different kinds of vegetables that need different amount of sunlight. To know how much sunlight your vegetable needs, here are the basic sunlight conditions:
Full sun
This is the part of your garden that receives direct light (usually 6 or more hours a day between 10 am and 6 pm) from the sun. Generally, fruiting vegetables such as tomatoes, cucumbers, squash, cucumbers, eggplants and peppers need to be planted in full sun areas where they receive the most sunlight during the day.
Partial shade or partial sun
Partial shade or partial sun refers to the portion of your garden that obtains 3-6 hours of sun or shade for the rest of the day. Root vegetables which include beets, carrots and potatoes can be grown in partial shade areas.
Light shade areas get less sunlight or reflected light during the day. It usually receives about 2 to 4 hours of sunlight per day. Leafy vegetables like spinach, chards and salad greens are the most tolerant plants that you can grow in light shade places.
List of vegetables that can be grown in the shade
Basically, root crops and leafy vegetables can thrive in shade houses. Here is a list of some vegetables that are perfect for shade houses. Note that this is not an all-inclusive list, but it can give possible options to help you get started.
Asparagus
Beans
Beets
Broccoli
Brussels sprouts
Cabbage
Carrots
Cauliflower
Cucumbers
Herbs (almost all)
Leeks
Lettuce
Onions
Parsnips
Pea
Potatoes
Radish
Scallions
Spinach
Turnip
How to grow your vegetables in shade?
Vegetables that are grown in shade houses are most likely to be succulent and free of bitter taste. To effectively grow your vegetables in a shade house, look for areas which receive sunlight above ground level. Areas that are shaded in the morning but sunny by afternoon are perfect for climbing vegetables like beans, peas and cucumbers.
Useful tips
Here are some useful tips that can help you grow your vegetables in a shade house.
Use good soil with nutritious compost when growing your vegetables in the shade house.
Since you are growing your plant in the shade house, watering requirements may be different than growing plants in full sun. Thus, you may not need to water your vegetables as often because moisture doesn't evaporate too quickly in the shade house.
Check your shade house regularly for pests such as slugs and snails which can thrive in cool and shady areas. You must also practice good sanitation procedures to avoid pest problems.
You can utilise reflective mulches to cast light up onto your plant. Reflective mulches can also reduce damages that are caused by pests such as aphids.
You can also experiment with a small shade house with your vegetables in it and observe their growth.
Deciding what vegetables can be grown in the shade house
When deciding on what vegetable to be grown in your garden shade house, think of which part of the plant is consumed. Crops where leaves and roots are consumed like spinach and potatoes tend to grow perfectly in partially shaded conditions or in shade houses. On the other hand, vegetables whose fruits are eaten like tomatoes and cucumbers, grow well in full sun where it requires at least 6 hours of sunlight a day.
Generally speaking, growing a successful vegetable garden depends on the attention and care you give to it.
Conclusion
Vegetables that are grown in the shade tend to produce a more succulent crop. Moreover, growing in the shade can make your vegetables less to bolt. A quality shade house can be your companion to effectively grow your vegetables.
Shade house can offer other benefits to your plants such as a temporary relief from extreme heat. By careful planning, you can successfully cultivate the right vegetables in the shade house.
When it comes to choosing the right shade house, it is wise to pick the one that fits your garden. You can choose shade house kits in various sizes and frame designs that suits your garden.