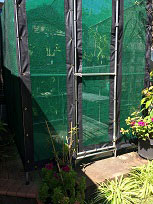 Shade houses are used for growing indoor and shade-loving plants.It is installed to maximise growing efficiency. Moreover, it protects plants from insects and natural weather disturbances such as rain, wind and extreme heat.
Since shade houses have many uses, many gardeners and nursery owners like you may be thinking to buy or even build one by yourselves. But are there any mistakes for you to avoid in the process? Without any doubt, it is very important to know and plan ahead what you want to have in your shade house in advanced. With these, here are some important aspects to consider before buying or building a shade house.
Basic styles
There are 2 basic styles of shade houses. It could be free standing or attached. Freestanding shade houses can be installed at any location you want. However, it can be costly to build and install.
Unlike free standing, attached shade houses are fixed on the wall (usually a house or garage). Thus, you do not need to build all four walls of the shade house. This structure is less expensive than freestanding shade houses.
Structural options
Shade cloths are used to cover your shade house skeleton and protect your plants. It is made of loosely woven polyester or aluminium. It also comes with different colours to enhance the absorption of UV lights.
Shade nets are determined by the percentage of light it blocks. A percentage of 90% means that only 10% of light passes through it. There is a specific shade percentage for different plants to grow it efficiently. Furthermore, there are 2 common types of shade cloth available in the market.
Basically, knitted shade cloth is made of lightweight polyethylene. It is more durable than woven shade cloth since it resists most horticultural chemicals and detergents.
It is made of 100% polypropylene. Woven shade cloths are suitable for pet kennels, shading for patios, wind screens and many more. It allows minimal shrinkage than knitted shade cloth.
Apart from shade cloth, picking good frame materials for your shade house should also be carefully planned and considered because the material will affect the shade house quality and its longevity.
Frames Materials
There are 3 common types of frames that are used for shade houses. These are the following:
Although it is easy to find or purchase wood frames, this type of frame tends to be less durable than any other frames. It will not last long especially under different weather conditions.
Plastic frames are convenient to use because it is lightweight. Since plastic frames do not transfer heat well, it doesn't get too hot when exposed to the sun.
Aluminium-framed shade houses are usually more robust than plastic frames. It is also rust-proof which makes it good for long term use. However, this frame is most expensive amongst all the frames.
Other structural options
For your shade house to be sturdy, shade materials such as snugger tie downs, shade clips, wire supports, ropes etc. should be used. If applicable, you can choose a shade cloth that has grommets or polyclips to tie the shade cloth to the frame.
Aside from the structural options available, you must also evaluate what shade house size you need and whether it will suit your budget. It will depend on the quality of the materials and usually, you get what you pay for.
Size and Cost
When choosing a shade house, make sure that you can move comfortably in it. Go for the one that can store all your shade loving plants and is within your budget. Shade house cost usually depends on its size, materials used for its components and the overall quality.
It is better to select a large shade house rather than to buy a small one and then enlarge it later because it will save you more time and money in the long run. Occasionally, some nursery owners end up expanding their shade houses because they might want additional space to store their plants.
Buying or building a Shade house can be considered as a long-term investment. Hence, it is recommended that you should pick the right shade house that will be useful for many years to come.
Orientation
Before buying or building a shade house, plan ahead where you want it to be installed. Look for an area where it can receive maximum sunlight exposure. It is recommended that shade houses should face north-south so that plants can get full sun heat.
Shade house site
Your shade house site should be the best place to grow your shade loving plants. It must be a location where there is adequate drainage available. It should also stay away from any industrial or vehicular pollutants. Apart from that, the area should have an easy access to utilities such as water and electricity.
Shade house vendor
Selecting a good vendor should be considered whether you are buying or building a shade house. Before anything else, you should do some research about which supplier provides high quality yet affordable equipment. Contact different shade house vendors and ask them questions about the product. Below are some important things that the vendors should offer.
Replacement parts and local support
If shade house parts and fittings are broken, the supplier should provide replacement parts and accessories for the equipment. Just in case you need additional service such as product installing, there should have local support available from the vendor.
Easy to read assembly instructions
If you purchase a DIY shade house kit, it should come with an easy to read assembly manual, which is written in plain English with a clear step by step instructions to help you build and install the product correctly.
Conclusion
Shade houses are used for improving plants' growth and protecting them. To make sure you spent your money wisely before you build or buy a shade house, all aspects mentioned above need to be taken into consideration because your choices of shade house will largely affect your plants later on.
If you are interested in shade house kits, you can contact your reliable shade house supplier for further information.