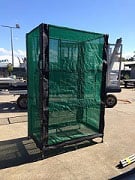 You can get confused easily about how to find the best shade house vendor and which one to choose whether you go online or visit a manufacturing workshop. To get the best offer, you will have to do your research and consider different aspects before purchasing the shade house.
There are a few factors that you should take into consideration when choosing a vendor and they are quality, reliability, the level of services, value for money and much more. Below are some tips on identifying the right shade house supplier regarding the factors.
Lead Time & Product Quality
Time of production is one of the important considerations when choosing the right vendor. You always want to have your shade houses to be produced and delivered on time.
Furthermore, the quality of the vendor's shade houses should be ensured. Even if you want a short lead time for your shade house project, always consider the product quality that the seller provides. Sometimes it is better to wait a bit longer to get the product manufactured rather than getting it quickly from an online store with the quality compromised.
You can also think of as many questions as you can to ask the vendor. By asking questions, you will know if they are knowledgeable enough about the product and find out whether they are the ideal supplier. So what types of questions to ask? Read on.
Have a checklist
Before contacting any shade house vendor, make yourself a checklist. This may consist of some factors that you want to consider when picking a supplier. You will be contacting to a few companies so a checklist is very useful to keep you on track and to avoid confusion.
Here are some of the aspects that should be reviewed when choosing a right shade house seller.
Responsiveness and clear communication
Is the supplier reliable with enough knowledge about

shade house and

gardening?

Are they able to communicate when there are issues in the manufacturing process?

Are they able to answer all your questions regarding the entire purchasing process?

Is there a person in charge who you can contact for issues (e.g. technical issues)?
Price
Are you getting what you paid for with this vendor?

Are they able to give you the exact prices of their shade houses with no hidden or additional cost?
Speed and flexibility
Can they deliver shade house on your preferred time?

Do they pay much attention to your special needs and requests?
You can also take some notes when talking to different salespersons to figure out what their shade house' capability is. In the end, you will be able to evaluate which supplier can give you the best deal.
Consider the location of the vendor
Think about the location when choosing a shade house vendor. The difference between choosing a local equipment supplier is obvious.
Distant or overseas suppliers can take longer shipping times with extra freight costs. Also, you can't check their product quality easily. So if you prefer your shade house project to be completed quickly with higher quality standard, a local manufacturer is a better option.
Gather reviews from previous customers
Try to ask for references from the supplier so you can contact their customers and ask some questions if it is necessary. You can also talk to other plant enthusiasts about their opinions or experiences on certain companies if they have purchased shade house from them before.
The reviews can help you evaluate and compare which vendors can supply the shade house that suits you the most.
Spare parts Availability and Customer Service
The availability of spare parts is important especially when you want to replace certain shade house components. The vendors should also be able to provide extra support if there are any issues when constructing the shade house.
The supplier you pick should have excellent customer service. They should be accessible when you ask for urgent requests such as parts replacement and other specific support. Good customer service will not only make you feel good, but also makes sure that the shade house your purchase from them is really good value for money.
Summary
Choosing the right shade house vendor takes time and effort. From the tips given above, it will be easy now to pick a good shade house merchant. Just remember that the right supplier is the one who can provide the suitable shade house for you, at a reasonable price range and at the right time when you needed it.