It was another normal working day in 1956 for Mr Gillis Lundgren, a draughtsman and one of the first employees of IKEA in Sweden. He needed to put a table into the boot of his car, but the table was too big to fit in. He then came up with an idea: to break the table's leg to get it in and then put it back together when he got home.
Since this innovative method worked so well, Mr Gillis Lundgren suggested to his employer IKEA to sell furniture in parts, which would reduce shipping cost and make transportation easier. IKEA's founder Ingvar Kamprad adopted this good idea and turned IKEA into one of the largest corporations on the planet (as of January 2014, IKEA owns and operates 349 stores in 43 countries).
So what can we learn from the above story? The innovative "flat pack" supply is really beneficial to the manufacturer and customers. The "flat pack" supply method has become more and more popular nowadays. Equipment manufacturers in Australia are being forced to come up with "flat pack" ways to manufacture their machinery and equipment to reduce transport costs to customers because of the long distances across Australia. Let's explore the various transport methods in Australia and see what benefits "flat pack" brings to equipment transportation.
Manufactured Equipment Transport Methods

1. Australia Post (Government owned)
Manufacturers occasionally use Australia Post to delivery small products and parts because it is simple and easy with many distribution points all around Australia in every town, making it very cost effective. According to
Size-and-weight-guidelines
of Australia Post, the maximum parcel size and weight is
22kg
in weight,
105cm
in length or
0.25 cubic metres
in volume. From the manufacturer's perspective, it has to be evaluated as to which is the most economic way to design and manufacture equipment to fit within these parameters to take advantage of Australia Post's cost effective deliveries. The delivery time of the post office is usually 1-2 days.
2. Courier Companies (Privately owned)
There are different types of couriers services: local couriers, state couriers and interstate couriers within Australia
. Some big courier companies such as
FedEx
and
DHL
also have international courier services with air freight and shipping services.
(1) Courier Vouchers/Coupons
Many courier companies have vouchers/coupons and labels, which are "prepaid". These pre-purchased tickets from transport companies allow manufacturing companies to deliver small products at a known fixed price. The sizes and weights are slightly bigger than the post office parcels and have some limitations. The limitation of weight is usually
25 kg
and
0.10 cubic metres
[.464m (H) x .464m (W) x .464m (D)] (
See here as an example
). Anything over these limitations, need to have additional vouchers attached. The delivery time by using courier coupons is usually 1 - 3 days (depending on destination and the schedule/timetable of trucks running back and forth).
(2) Local delivery vs Short haul delivery vs National delivery
Delivery within the city metropolitan area is "local delivery" while delivery out of metropolitan area within a state is "short haul delivery". For local and short haul delivered manufactured products, table top trucks, pan techs and crane trucks are the most common transportation vehicles.

• Table tops have no covering and no restrictions on size of equipment.
• Pan techs are enclosed giving good weather protection but have limitations on equipment size and loading/unloading restrictions.
• Crane Trucks are used where heavy equipment cannot be unloaded by a customer.
Usually the truck will pick up the products from the factory/warehouse and deliver to a depot. After storing all the goods at the depot, another truck will be loaded and deliver the goods to different destinations.
However, manufactured equipment could be delivered to customers directly without taking the product to their depot, but it costs a lot more.
For national delivery, it is" long haul" delivery between two states and trucking (semi-trailer and B-Doubles) are not necessarily the only method. Ships and trains are also used between two depots if there is high volume to carry.
Delivering over 25kg of equipment to your premises in local metropolitan areas will usually take 1 -2 days while short haul delivery will take 2-3 days, compared to interstate/national delivery taking 3-7 days.
The delivery time and cost depends on the size, weight and the destination of the goods. Also, the truck timetable/schedule into different regions and isolated areas is another factor that affects the delivery time.
3. Self pick up vs Manufacturer delivery service
If you live/work in the local area or within short haul distance from the manufacturer's factory or warehouse, sometimes it is more cost effective to come to the
manufacturer's depot
to pick up the products or even ask for their delivery services. It all depends on the size of the goods, time available during working hours and the associated costs as well as how urgent you need the products.
The advantages of "flat pack" supply in manufacture!
After looking at all the transport methods in Australia, let's have a close look at the benefits that customers can get from "flat pack" supply.
1. Customer pick-up of product using a ute, trailer or other vehicle.
Some people may not be able to be home to take delivery of goods and may prefer to pick up the purchased equipment from the manufacturer's factory or warehouse and start to use/install goods instantly. This can save money on transportation. However, equipment is sometimes very heavy and could be too big to fit into your ute. The "flat pack" format does solve these problems. It brings your cost down and gives you convenience.
2. Slightly less expensive to purchase the equipment
Manufacturers usually finish their products by welding or joining components together. If some of
these components
are "flat pack" supplied, manufacturers won't need to spend as much time as before on assembly and the price of the product will be reduced. So the equipment becomes less expensive to produce and less expensive to purchase.
3. Equipment can be disassembled for relocation/storage
If you buy a manufactured product which is easy to pull apart and disassemble, it will make your life easier when you try to move house or move your company to another location. "Flat pack" mobility is a great advantage.
4. Feeling of personal accomplishment by assembling the products.
It is satisfying to assemble "flat pack" equipment if you have the spare time. Gives you a good understanding of how the equipment works for future maintenance requirements. When it comes to business use, assembling equipment costs you time and money. It depends on how easy it is to assemble the product and what trades people you have in-house. Although asking some office workers without trade background to assemble some complex equipment is not a good idea, a very easy-to- follow instruction book/drawings will help you assemble the equipment quickly and successfully.
5. Easier to wrap for present giving if the equipment is small.
Who says manufactured equipment wouldn't become a present? (
Look at this article
) It is a great experience to wrap up some "flat pack" parts and send them to your friends or family members as a gift. If you choose a gift with the recipient's happiness in mind, you can never go wrong. You will really impress them because the assembling process is fun and adds to the gift's value.
6.

Availability - More likely to be in stock
Manufacturers usually make multiple items at once rather than only making one. By doing so, they reduce costs dramatically. As for ""flat pack"" parts, they are simpler to make, take up less storage space and manufacturers generally have more in stock, which not only shortens lead time but also reduces the cost. So when you want to purchase "flat pack" equipment, ask whether it is in stock.
7. Lower cost on delivery due to the reduced sizes of products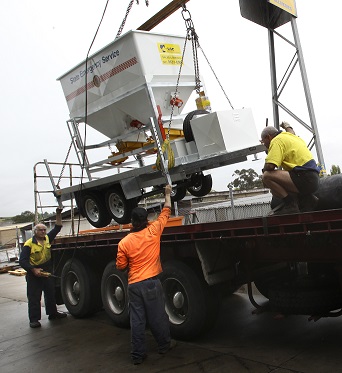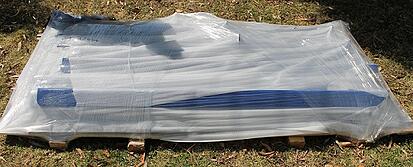 As we have learnt from the courier transportation above, the cost of transportation depends on the size, weight, destination and the truck's timetable and schedule. Different sizes of the equipment really cost you different amounts of money. Below are the delivery cost differences between "flat pack fully assembled" supply and "flat pack" supply to different destinations:
Example:
delivering benching for plants
(2400mm long x 1200mm wide x 300mm height ("flat pack"):
Courier Type
From/Location
To/Destination

Less delivery cost if goods are "flat packed"

Local Courier
Toongabbie NSW 2146
Penrith NSW 2750

-

$30
Short Haul Courier
Toongabbie NSW 2146
Orange NSW 2800

-

$300
Interstate (long haul Courier)
Toongabbie NSW 2146
Morningside QLD 4170

-

$440

As we can see from the table above, it costs more if goods are not supplied in "flat pack". It will also cost you more if the distance is further. In other words, you will save more money if you transport equipment to a further destination in ""flat pack"" supply.
In Summary
The "flat pack" way of transportation is not only applicable to furniture. It has gained more and more popularity in equipment and construction industries. No matter if the product is delivered by Australia Post, couriers, manufacturers themselves or self pick up, the innovative "flat pack" way of manufacture is growing in demand because it is beneficial to both manufacturers and the customers. It is a win-win situation for both the seller and buyer.


(* Please click the socal icons below and share this article if you think it is beneficial to other people
)