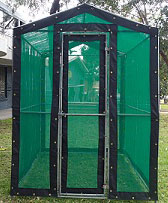 For gardeners and hobbyists who want to grow shade-loving plants, shade houses can be used to improve production for your plants. Shade houses can provide the best growing environment for your greenery.
Some of you may be thinking about designing and building a shade house. Designing a shade house may not be an easy task for you. Hence, considering different factors and conditions beforehand is always essential. You can determine early signs of issues and prevent certain problems from happening that could bring you headache later on.
This blog post will guide you on shade house designs and constructions that you can use for your garden. Read on below.
How should you plan your shade house?
Before anything else, you should consider these few points when planning to buy or build a shade house. Below is a general shade house guide that every gardener should follow.
Most hobbyists build their shade houses to house the maximum number of plants. Maximum bench space is the priority. Pathways should be kept to a comfortable minimum. Remember you will be looking for more bench space if all goes well and grows well. I read the other day that the golden rule of orchid house construction is "Work out how big you want it, build it twice as big, and it will only be half big enough"
Site preparation
Basics
When preparing your shade house site, the first main item on the list should be nursery basic tools and equipment. These tools include containers for growing mediums, pots, seedling flats and hand trowels. Some hobbyists prefer to use biodegradable pots that can be stored in a waterproof container.
Shade house location
Choosing a good location for your shade house is also necessary. Here are a few questions to guide you.
What is the distance between the shade house's location and where the water supply is?
Does it have a good drainage during wet seasons?
Is the ground levelled?
Are there any weeds nearby?
Are there any big trees nearby?
Is the location accessible to trolleys, wheelbarrow, etc.?
Is the space available for expansion?
Going through this checklist can help you evaluate whether your chosen spot is a good one.
Shade house interior
Your shade house should have the right benches or shelving to get your plants off the ground. If you are using any wooden nursery benches, make sure to paint it with a semi-gloss paint for easy cleaning. Doing this will also help protect your wooden benches against moulds. Remember, getting the optimum air flow is important.
Storage area
If you want to make use of your shade house space, you can utilise the area under the bench to store gardening tools. You can also use an unused bench or wall to cater for other small items.
Environment control
Shading cloth
Choosing the shade cloth that will be suitable for your shade house must be thoroughly considered. Also, when selecting your shade nets, you have to consider what density percentages you will need.
After planning and preparing for all the things you need when building a shade house, you should also know the different types of shade house that you can build.
Shade house designs
Shade house designs can vary according to your preference. You can choose from different types of shade house designs below:
Lath houses are framed structures that are covered with wood lath. Lath houses are also known as original shade houses. Lath houses usually have straight sides and a flat top. The lath house frame is similar to a regular shade house but the cover consists of removable wooden strips.
In cable frame shade houses, posts that are surrounded by concrete are set into the ground. Deadmen provide the bracing for the tension of the wire. The roof can be fixed with any shade cloth.
For rigid frame shade houses, the shade cloth is attached to roll formed truss through the screws. Diagonal knee braces create the rigid frame diagonally and horizontally.
Retractable roof shade houses
Shade houses with retractable roofs use the same technology like the one in greenhouses. You can either use a cable or truss to support and carry a design wind load.
If you want to build a shade house on your own, below is a quick guide on how to construct it.
Quick construction guide
Most of the materials needed to build a shade house can be obtained in a low-cost. Here are the basic materials that you can use:
Poly-pipe arch
Star pickets
Ceiling battens
Shade cloth
Tie wires
Hinges and mesh screen door
Latch
Brackets
metal strapping and tacks
threshold
To start, here is a quick building guide:
Choose the best spot wherein you can build your shade house. Clear the area if there are any rocks, nutgrasses, sharp objects, etc.
Estimate where your corner pickets should go and lay them on the ground. For the measurements, you can always refer to your available space. You may also want to call somebody to help you install corner posts.
Drive the pickets into their respective places according to your measurements.
Place the poly-pipe arch over the pickets.
Drill in the battens over the centre of the arch and secure it with screws. Make sure that the holes line up exactly with the pickets.
Roll out shade cloth and place it on each poly-pipe. Attach the cloth temporarily and fasten it to the centre batten with tie wires.
Secure each length of the cloth with cable ties and make sure it is tight. Cover the remaining part of the shade house (front near the door) with shade cloth. Cut off the excess cable ties to make it neat.
Place the threshold under the door opening. Attach the door at the front, making sure it closes easily. Then put the latch in place.
Conclusion
Your shade house can be your biggest asset in your garden. It protects your green life from insects and harsh environment and helps your plants grow healthy.
Before building, planning ahead can help you construct your preferred shade house successfully. However, there are DIY shade houses available on the market today if you want to spend less effort on designing and building a quality shade house. You can build it easily with the materials and instruction provided.