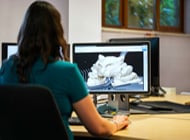 Slicer software is known to be an essential element of 3D printing process. A slicer software cuts up the .stl file into different parts according to the layers to be printed
Slicing is the final step when processing a 3D printing file. Slicing the 3D model into different parts will make it easier for the 3D printer to print the parts.
Over the years, there has been a lot of free slicing software available for 3D printing designers. Some of it offers basic features while others provide complete access to its package.
This blog post will guide and educate you about the top 10 slicer software for 3D printers. For those who are looking for 3D slicer software, this blog post might help you find the best slicer software for your 3D printing project.
For Beginners
Here are some slicer software that are ideal for beginners in 3D printing.
Cura
Cura is considered as a user-friendly 3D slicer software. It was developed, hosted and maintained by the 3D printer company Ultimaker.
At first, Cura came out as a freebie. It is one of the easiest apps to use for slicing. Even beginners can use it right away. Aside from that, it accepts different formats of files such as STL, OBJ or 3MF file
Astroprint
This software is a cloud-based platform. Astroprint is free but if you request for additional features, you can pay some fee to get access to it.
The software is very straightforward. Thus, beginners can follow and execute it easily. It also has colourful and attractive graphics interface which makes it easier to use.
CraftWare
CraftWare is known to be the best slicer software for novices. It is easy to use, fast and free. CraftWare converts a digital 3D object into a .gcode toolpath.
In this software, the designer can interactively manage print, find optimal build supports and reduce build time.
MatterControl
Like other slicer software, MatterControl is a free and open source software for beginners. It lets the user design, slice and manage 3D prints easily.
It includes a Plug and Print feature. This means that it pre-loads the configuration for most 3D printers. It also has an auto bed levelling tool and control console to fine tune setting.
SelfCAD
SelfCAD is another free slicer software for beginners. It is an all-in-one online CAD program. This software allows users to sculpt, slice and print 3D models. It has in-built slicer that lets you check each layer of the 3D model with its slicing tool.
This program is convenient to use as it displays the estimated print time, final model weight and material usage.
Intermediate
For 3D printer users who are ready to level up their 3D slicing experience, here are some software for you.
Repetier
Repetier is a free and open source software. It also offers a wide list of features apart from slicing.
This software allows you to import one or more 3D models. Then you can scale, rotate or duplicate them on the virtual bed. It has also a setting that can slice the plate with different slicers.
Nevertheless, this software needs to be tweaked first to get the best result. Apart from that, the user should have enough experience and knowledge to get accurate adjustments .
KISSlicer
KISSlicer or Keep it Simple Slicer is a free 3D slicer software that works on different platforms such as Mac, Windows and Linux.
KISSlicer focuses on precision and technical aspect of 3D printing. This software has the most complex feature in a slicer. It has adaptive layer heights, numerical modelled dynamic plastic deposition, varying styles per objects, loop stitching and many more.
Professionals
Here are some of the advanced slicer software for 3D printers. Read on below.
Slic3r
This free software was developed by Alessandro Ranellucci along with other contributors. It is a great tool to convert digital 3D models into .gcode.
Slic3r software works fast and can generate g-code 100x faster than Skeinforge. Aside from that, it has also multiple extruders, smart cooling strategies to regular fan speed and other features that allow you to save time and increase accuracy.
OctoPrint
OctoPrint is an advanced 3D slicer software that can be used within a browser. It gives the designer monitoring and full control even if they are away.
The software is equipped with embedded webcam feed. This can let you watch the printer remotely so that you can be able to provide feedback about the progress. It has an integrated g-code visualizer to allow you to see a version of the 3D file.
IceSL
This software is not only a slicer software but also serves as a 3D modelling tool. The software includes a wide selection of slicing settings that are not available in other software.
Moreover, IceSL is equipped with ooze shielding feature. This protects the 3D model against extruder drippings.
Conclusion
Slicer software is an important aspect of 3D printing. It is considered as a vital mediator between a CAD file and the 3D printer.
When choosing a slicer software, it is a great help if you have enough knowledge about the different slicer software. This list of top slicer software can guide you in choosing the best free slicing software for your 3D printing project.
If you need more help, do not hesitate to ask for assistance from a professional. There are some 3D modeling & 3d printing service providers in Sydney that provides services such as 3D design and modelling, custom 3D printing, industrial 3D printing and many more.