Dear C-Mac's Customers & Suppliers,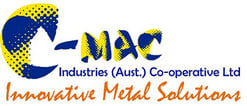 Just a quick note that C-Mac has been attacked by a type of malware called Ransomware since yesterday morning, so unfortunately our server and emails are down at the moment.
But don't worry, C-Mac and its website https://www.cmac.com.au are still functioning and we can be reached by phone (02) 9631 6000
The issue will be fixed ASAP and we sincerely apologise any inconvenience it has caused.
PS. Please be warned that we don't normally send out zip files and if you receive one from us, "be wary" and ring C-Mac.
PPS. The complementary seminar "Realising your Assets in Retirement" that will be held by C-Mac together with council and other experts on next Wednesday afternoon (23/10/2019) will not be affected and still accept booking although seats are limited.
C-Mac Industries ( Aust ) Co-operative (Ltd)
"Innovative Metal Solutions"
72 - 74 Mandoon Rd Girraween NSW 2145
Phone: 02 9631 6000 Fax 02 9688 4679
Email: steveg@cmac.com.au
Web: https://www.cmac.com.au