C-Mac Industries has proved the essence of its values to promote community participation and support. The company has given an opportunity to a young lady to learn more about engineering and acquire new practical skills in areas of industry.

Kirsten Webster, a 3rd year student completing Bachelor of Arts - Technology/Bachelor of Teaching - Secondary at the Australian Catholic University (Strathfield) was qualified to work at C-Mac while learning skills and gaining real world experiences.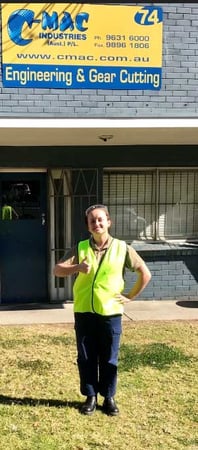 She will also be helping the company in all areas possible.
Kirsten is also responsible for planning and completing a project where she will hand in at the end of her semester.
She is undertaking a project using the "Spring Benching" product. She needs to design and create a small decorative kit plant bench suitable for urban gardeners with a balcony.
This is much in line with the principles of manufacturing co-operatives.
Under principle 7 of the Manufacturing Workers Co-operatives, C-Mac Co-operative works for sustainable development of the community through policies approved by C-Mac members.
It will also improve the quality of metal work for teachers in the local schools and potentially generate more interest in manufacturing amongst the local community.
At C-Mac, we strive to help schools bring knowledge to life and build a bridge between knowledge and practice.
Wish Kirsten all the best with the internship at C-Mac.