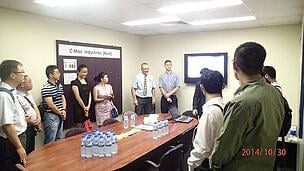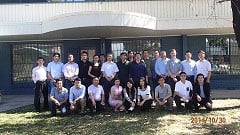 On 30th of October, Winglong Pty Ltd in Sydney who is accredited to bring in Chinese government delegations to Australia for short term seminars and visits, organised a group of Chinese government delegates to visit to C-Mac for a short 1.5 - 2 hours to learn about C-Mac's team management experiences and practices, how do team leaders/supervisors solve on-site problems in a production line.

The Chinese government delegations came from the State-owned "Assets Supervision and Administration Commission of the Central Chinese Government" consisting of 22 people.

They were very keen and interested in visiting C-Mac, representing a typical manufacturer in the western Sydney area that has advanced HR policies and staff engagement in the decision making processes. The delegation found that C-Mac was a very successful company in precision engineering, steel and metal fabrication and was amaized how few staff could make such a wide variety of diverse products.