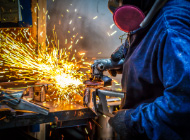 Long before, copper was a very common type of material for fabrication. It was melted and processed to create various objects. Later on, copper was replaced by bronze to make coins, armours and weapon. After this period, the manufacturing industry slowly shifted towards the iron-age.
With the industrial revolution coming into existence, cast-iron was eventually getting outdated. Then fabricated steel was becoming famous in the construction and industrial industry. Despite its massive popularity today, there are still a lot of people who don't know what steel fabrication is and how it is done. Below is an ultimate guide on steel fabrication that can help.
What is structural steel fabrication
It is the production of steel structures through cutting, bending, welding, forming and assembling. In other words, it is the process of turning raw pieces of steel into usable shapes for building and construction. These may include hand railings, machinery and even heavy equipment.
Advantages of using steel for fabrication
Steel is an in-demand choice for fabrication because it is sustainable as building material. It has a lot of efficient qualities that can simplify and accelerate the building process. Here are some advantages of using steel for fabrication.
Due to its ability to withstand weather conditions, steel is frequently used in building commercial structures. In fact, it is durable than other building materials including concrete. Aside from that, steel has a long lifespan. Additionally, it is fire resistant and can survive other disasters such as storms.
Potential for customisation
Steel is considered useful for most fabricators because of its ability to form various shapes. It is known to be the practical choice for a wide array of designs. Furthermore, it can be bent or moulded in many ways. This characteristic makes it the perfect material for custom designs.
Steel has many sustainable qualities which include being environmentally friendly. It is recyclable and has a low carbon effect. Hence, this makes steel an ideal choice for businesses who want to go for a clean and green environment. Nowadays, producing steel has also become naturally safe.
Compared with other building materials, steel is known to have significant cost savings. In fact, the return on investment of steel is associated with its strength and reliability. It is because this type of material doesn't have to be replaced for years and even decades.
Steel Fabrication Process
Here are some of the basic techniques that most steel fabricators do. Read below to learn more.
It is a process of cutting up steel sections to make it easier to use during fabrication. It is also a method for cutting down different steel sizes for custom fabrication. Steel cutting uses different techniques which include plasma cutting, flame cutting and cutting using a circular saw.
Shot blasting is a process of blasting or burning steel sections using shots or small steel beads. This is to remove any impurities and prepare the metal for fabrication. The main goal of shot blasting is to provide a clean finish for easier welding. Aside from that, it will give fabricators a rough surface to put on paint.
Shot blasting is a technique used in various industries such as auto and ship building, construction and production of different steel structures.
This technique is used when more intricate steel shapes and elements are necessary for the construction. With steel bending, a section will go through a roll bender for a few times until the required arc is achieved. For more straightforward bends, press braking technique can be used.
Welding is a process of melting steel structures and filler material or welding rod using very high heat. Once they are cool down, they will be fused together. Welding is a universal technique in steel fabrication.
Steel often requires coating for practical and aesthetic reasons. The most common technique of coating is galvanization. It is the process of covering the steel surface with zinc to obstruct corrosion.
How steel is fabricated
To help you better understand the process, here is a guide on how steel is fabricated.
1. Designing steel structure
Before anything else, it is important to come up with a design first. Many steel fabricators utilise CAD programs to map out and visualise what a steel structure is going to look like. This will allow the customer and fabricator to get on the same page. It will also be easier to complete the task because metalworkers can pass along accurate blueprints for steel structures.
2. Creating steel structure
After the steel structure design is planned out, steelworkers can begin the manufacturing process. In this stage, metalworkers can utilise various tools that are capable of bending and reshaping steel structure. Generally, the tools used for this phase rely on heat, pressure and altering the shape of the steel.
Furthermore, fabricators use CNC equipment that is particularly designed to create steel components quickly. This is done by cutting and bending steel with precision.
3. Finishing and assembling the steel structure
For this stage, fabricators can finish off by adding final touches to the steel structure. In most cases, it will be blasted, sanded or painted in order to provide resistance to the elements. On top of that, it can be requested for aesthetic purposes.
Conclusion
Steel fabrication is a crucial manufacturing method that requires specialised skills, knowledge and resources. Thus, it is vital to be educated with this production process so that you can take advantage of its capabilities. To create satisfactory steel beams, components, equipment and other structures, this ultimate guide on steel fabrication can help.
If you need more detailed information about steel fabrication, you can contact your local Sheet Metal Fabrication Specialist to assist you.