Transformer Oil Filtration Equipment Maintenance
Every machine needs to be maintained in a proactive way, so does C-Mac Transformer Oil Filtration Equipment (IOT). Some Transformer Oil Filters have been operating for many years now and are overdue to have pump seals, fibre optics etc replaced. Equipment needs to be checked and maintained on a regular basis.
Transformer Oil Filtration Machinery Maintenance Onsite
An experienced service technician is sent out on site to undertake regular service of your equipment at specified intervals. When he attends your site he undertakes the following: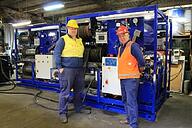 Detailed inspection
Record details of all components for any future spare parts requirements
Provide a detailed "Service Report" listing recommended requirements
Recommends any short term or long term repairs
Lists any recommended equipment updates and improvements
Consultation
Draw up IOT unit a maintenance upgrade schedule based on your organisation's specific requirements
Taylor a program to suite your budget, operating conditions and risk profile.
Transformer Oil Filtration Machine Maintenance Training
(1) Train new and existing staff in the correct operation and maintenance of IOT units
(2) The trained staff could regularly service your equipment
(3) Phone call support from C-Mac when it is necessary
Transformer Oil Purification Machinery Update
Upgrade existing equipment by updating your existing PLC controls, sensors, filters and pumps etc.
Why C-Mac's Transformer Oil Filtration Equipment Maintenance?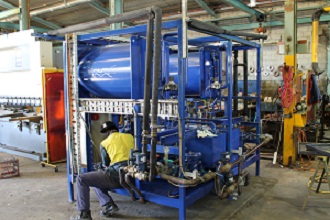 Know experienced personnel are maintaining your Oil Treatment Plants.
Look after your investment by keeping your asset running as new.
Extend your IOT machine life.
Minimize risk of down time and consequential production losses.
Your organization no longer needs specially trained & experienced staff with a core focus on keeping the oil treatment plants running.
Staff is correctly trained in the use of IOT equipment, minimizing costly mistakes.
Staff is not exposed to maintenance risks (Safety is a big issue).
Resolves complicated maintenance issues.
Peace of mind that the maintenance is carried out in a safe, efficient manner on a regular basis and on time.
C-Mac has a large factory, crane facilities and a variety of equipment to undertake repairs.
ISO 9001:2008 Quality Accreditation procedures
Contact us on 02 9631 6000 to make an enquiry OR